As religion grows around the globe and Western societies become more diverse, the workplace becomes a natural place where faith is included.
This year's third annual Religious Diversity Leadership Summit was the largest one yet, with attendance near capacity and a waitlist in hand. Tanenbaum's first full day Summit boasted 155 attendees and 23 speakers plus moderators from 64 companies, spanning 18 industries. The day included four concurrent breakout sessions addressing focused topics, another first for the Summit. Hosted by Bloomberg, the Summit was sponsored by Bloomberg, DTCC, and the Walt Disney Company.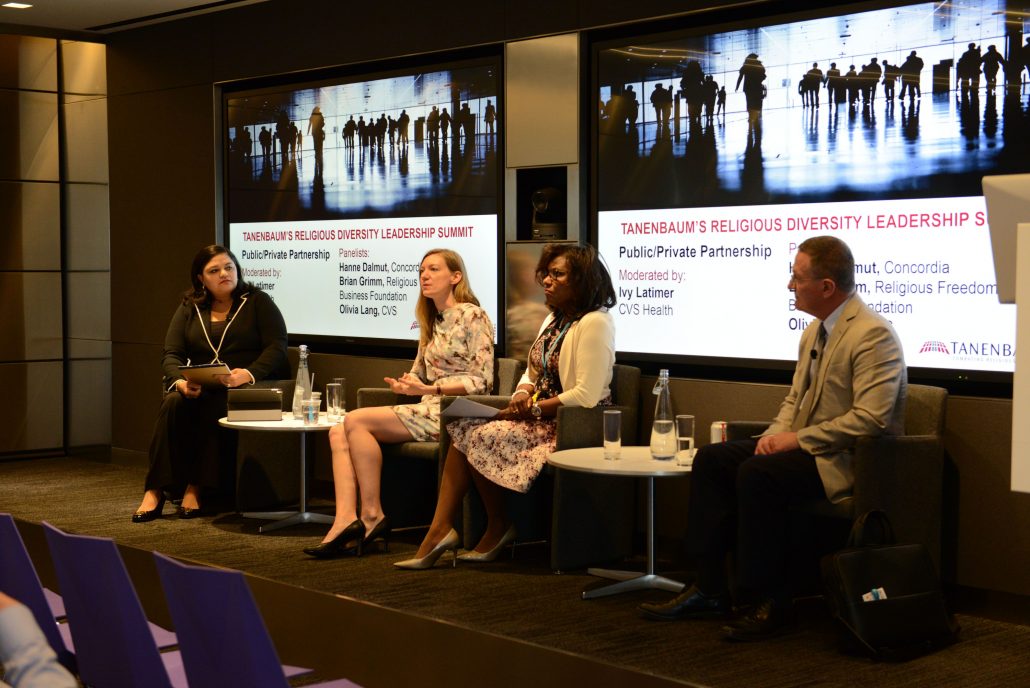 Ivy Latimer, Hanne Dalmut, Olivia Lang, Brian Grim
Public/Private Partnerships:
Hanne Dalmut, Director of Partnership Development, Concordia
Brian Grim, President, Religious Freedom and Business Foundation
Olivia Lang, Director, Workforce Initiatives, CVS Health
Moderator: Ivy Latimer, Senior Director of Equal Employment Opportunity/Affirmative Action and Strategic Diversity Management, CVS Health
During the Summit, the topic of why are public/private partnerships that address topics of religious diversity so important today. Each of the speakers addressed their organization's engagement in public/private partnerships and shared some specific examples of the work public/private partnerships accomplish.
Brian Grim gave the example of how the biannual Global Business Convention & Peace Awards has grown in number of partners and scale of impact, including 21 CEOs signing the Corporate Pledge on Religious Diversity & Inclusion in Seoul earlier this spring (see video clip).
Brian Grim gave keynote at inaugural summit in 2016
Panelists and moderators in the programs emphasized the importance of "bringing ones' whole self to work" and the positive impact, as well as sometimes challenges, this can have for everyone. This was addressed in the context of varying positions of power in a company, the impact of generational norms, and the influence of different company cultures (corporate, non-profit, government, etc.).
In response to the Summit, attendees shared the following reactions and takeaways from the day:
"I have attended the previous conference[s]. They just keep getting better."

"I appreciated 'respectful curiosity.' As a baby boomer, I was taught never to ask questions about why people are different. However, I always found [that] by asking respectful questions, you get to learn the culture and practices of others."

As organizations, we celebrate what we value. [Also,] don't be paralyzed by potential backlash. Instead, be prepared to ask people what they want/need when they raise concerns and say 'What about me?'"

"The Senior Leadership Panel described strong actions implemented at their company that describes the financial [return on investment] from diversity and inclusion. Using the Learning Lab assignment with Senior Management will generate dialogue and ultimately result in exercise to implement with staff."
The overarching message of the day as one attendee so powerfully articulated was that "diversity of religion is a fact, but inclusion of religion is a choice."