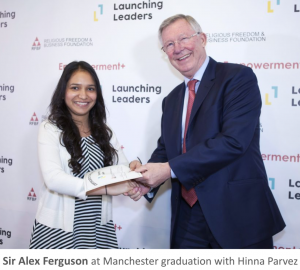 by Matthew Musialowski
The Religious Freedom & Business Foundations' Empowerment+ program in Manchester is helping improve interfaith relations in the same community that experienced the 22nd May 2017 Manchester terrorist bombing.
2017 brought news to our screens filled with messages of separation, hatred and fear. But behind the scenes, the Empowerment+ programmes in Manchester are helping spread the message of neighbourly love and help, with the goal of improving relations in Manchester between all communities, regardless of race, culture, religion or other characteristics.
TheReligious Freedom & Business Foundation's Empowerment+ programmes bring together communities of people in Manchester help each other gain career and practical skills with individuals whom they would not usually interact with. Of the current groups participating, there are members from Catholic, Muslim, Mormon and Hindu backgrounds showing a spirit of love and inclusion in Manchester.
The Empowerment+ programs inspiration comes from the story of the Good Samaritan and it is imperative that such initiatives expand and flourish. After the Manchester Arena bombings, Islamophobic attacks in Manchester surged by 500%, with there being 224 reports of anti-Muslim hate crimes in the month following the attack. Grassroots initiatives such as Empowerment+ are vital in helping communities not only build social cohesion, but also in eliminating isolation, ending rejection of others and implementing an attitude of serving others.
As well as having the ability to counter radicalisation and allowing people to practice their faiths freely, the programs have real practical benefits. With course topics ranging from money management to habits and the use of having mentors, participants have sung the praises of how the course offers real benefits in everyday life alongside improving social cohesion.
"There were some really interesting topics and questions that were brought up during the course both on the online resources and during the weekly sessions. By asking about challenging and thought-provoking areas of our lives, we were able to self-reflect with the added benefit of suggestions from the course and more importantly from the other participants." – Juliette (Participant)

"The topics were very insightful and helpful since we were reflecting on diverse range of things which on a daily basis we tend to overlook. Because the group was so diverse with different people coming from different backgrounds, I was able to expand my horizons and see things from a different perspective." – Eugene (Participant)

"You learn so much from other people's experiences and stories and opinions. Things that people can't discuss outside are given a platform to discuss in this space. Something society may neglect to talk about can be discussed here with respect to faith." – Hammad (Participant)
It is clear that small initiatives and grassroots gatherings such as this provide multiple benefits to the individuals and the community as a whole. It provided the evidence that we so often forget that despite our differences in belief and culture, we all have the ability and, in fact, the pleasure to sit in a room with the diverse range of people that make up our community. We can respect and learn from another's way of life and allow it to open new avenues of exploring our own daily activities.
The more tolerant we become and the more often we interact with members from outside of regular social circles, the more we are able to see that despite our differences there is a commonality between us all that we overlook as we get caught in the trappings of our superficial differences. Beneath the surface, we all desire to connect, to be understood and to feel as though we belong, and initiatives such as the Empowerment+ programme allow for these benefits to take root and flourish.