About
MISSION: The Religious Freedom & Business Foundation educates the global business community about how religious freedom is good for business, and engages the business community in joining forces with government and non-government organizations in promoting respect for freedom of religion or belief (FoRB).
Emphasis: The Foundation places emphasis on helping businesses foster interfaith understanding and peace.
VISION: The Foundation envisions a global future of innovative and sustainable economies where freedom of religion or belief and diversity are respected.
ACTIONS: The Foundation accomplishes its work through research, the Empowerment+ initiative, global awards, world forums, and education on how freedom of religion or belief is in the strategic interests of businesses and societies.
To get involved, please write, email or call the Religious Freedom & Business Foundation: 1A Perry Circle • Annapolis, MD 21402 USA (Tel: +1.410.268.7809; contact@religiousfreedomandbusiness.org).
Unique Role and Mission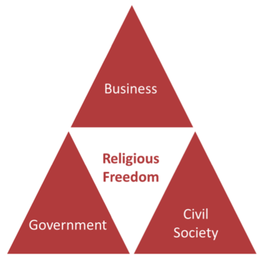 The Religious Freedom & Business Foundation is the first organization dedicated to educating businesses about why religious freedom will enable them to be more productive and successful, and how they can effectively incorporate religious freedom in their strategic business plans for the benefit of their stake holders, their employees and society.
The Foundation is a non-partisan charitable organization working with business people, academics, government officials and community leaders from multiple faiths (or of none) to accomplish its mission. The Foundation is a registered corporation and has IRS recognition as a non-profit 501(c)3 organization in the USA. It does not take a position on current political debates.
---
Membership
The Religious Freedom & Business Foundation welcomes individual and institutional membership. To become a member, please contact Brian Grim, president of the foundation.
Membership benefits include:
→ Full access to all RFBF research and resources.
→ Monthly RFBF Executive Briefing on latest trends and resources related to religious freedom and business.
→ VIP invitations to special RFBF events, including the biannual Global Business & Interfaith Peace Awards.
RFBF Membership Levels include Contributor, Bronze, Silver, Gold and Platinum.