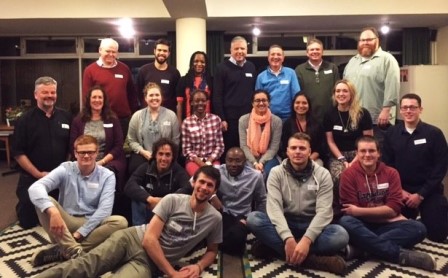 by Lisa Burns (originally published in Jesuits in Britain)
Launching Leaders, an interfaith project that links religion and business, has become the latest exciting new initiative to make its home at Manchester Universities' Catholic Chaplaincy.
The Launching Leaders Group – a 12-week programme which pairs participants up with mentors – had its official launch at the Chaplaincy at the beginning of this month. With the help of online modules, talks, workshops and strategic planning, the participants on the course (many of them university students) are encouraged to develop themselves personally and professionally, whilst putting God at the centre of their decision-making process.
The course sees participants from a range of religious and academic backgrounds meeting very Tuesday for workshops facilitated by Chaplaincy Communications Officer Lisa Burns and Catholic languages student Michael Tomlin. During each session, mentors and participants discuss long and short term life plans and goals in workshop settings. Participants are paired up with mentors from different faith traditions – Muslim, Jewish, Catholic, and from The Church of Jesus Christ of Latter-day Saints (Mormons).
While the Launching Leaders programme has been tried and tested internationally, it is now being piloted in its interfaith form at Manchester, at the invitation of Lead Chaplain Fr Tim Byron SJ.
A buzz of excitement
Launching Leaders is part of the Empowerment Plus programme, a fruit of years of research undertaken by Professor Brian J. Grim. Professor Grim, the founder and president of the Religious Freedom & Business Foundation, has looked extensively at the link between religious freedom and economic growth. His findings have shown that there is a positive correlation between the two, and that countries and regions where religious freedom is stifled have experienced economic decline.  View his fascinating TEDx talk
The much-anticipated global pilot of the interfaith Launching Leaders sessions at the Chaplaincy instigated a buzz of excitement, as the significance of its potential became tangible.
After the first session had ended, Professor Grim shared his thoughts: "The launch of Empowerment Plus at Manchester Universities' Catholic Chaplaincy reflected one of the true great contributions of Ignatian spirituality – we saw God working through people He created, as diverse as Catholics, Mormons and Muslims, all sharing the goal of seeing Him more clearly in the day-to-day."
He went on: "I couldn't have been more pleased with the launch – it was amazing to see young adults from multiple faiths come together to share so naturally about life, jobs, faith. Their enthusiasm indeed reflects hope from the Lord."
Hinna Parvez, a member of the Chaplaincy staff team, and coordinator of the Launching Leaders programme in Manchester also runs the Chaplaincy's weekly night shelters.  Inspired by the Empowerment Plus vision, she has devised a timely business proposal to convert disused presbyteries and church buildings into Empowerment Plus Communities.
As the Launching Leaders weekly sessions continue, it becomes ever more evident that it is worth keeping an eye on what God has in store for the Empowerment Plus team in Manchester!