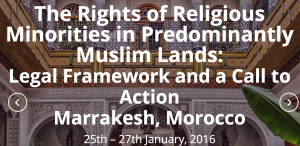 Religious Freedom & Business Foundation President Brian Grim, at the invitation of The Ministry of Religious Endowments and Islamic Affairs of Morocco, and the Embassy of the Kingdom of Morocco in Washington, D.C., will participate in the conference "Religious Minorities in Muslim Lands: Legal Framework and Call for Action" in Marrakesh, Morocco, from 25th to 27th January, 2016.
The conference will be taking place under the High Patronage of His Majesty King Mohammed VI, in conjunction with the Forum for promoting Peace in Muslim Societies. The conference will be attended by delegates representing different religious confessions, government representatives and academia from all over the world. It aims to explore new venues for dealing with religious minorities living in Muslims majority countries that is ethically rooted in the sacred texts of Islam, yet reflects the reality of the modern world.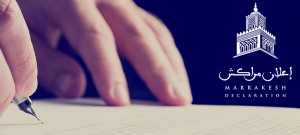 Marrakesh Conference Concept Paper 
At the meeting, Grim will bring insights from his research on the socio-economic benefits of religious freedom and interfaith understanding, the primary being peace and stability – key ingredients for sustainable development.
In order to examine more deeply what entails the rights of religious minorities in Muslim lands, both in theory and practice, His Highness, King Muhammad VI of Morocco, will host a conference in Marrakesh in the Kingdom of Morocco. The Ministry of Endowments and Islamic Affairs of the Kingdom of Morocco and the Forum for Promoting Peace in Muslim Societies, based in the U.A.E. will jointly organize the conference, scheduled to be held from 25th – 27th January, 2016 (15th – 17th Rabi al-Thani, 1437). A large number of ministers, muftis, religious scholars, and academics from various backgrounds and schools of thought will, God willing, participate in this conference. Representatives from various religions, including those pertinent to the discussion, from the Muslim world and beyond, as well as representatives from various international Islamic associations and organizations will be in attendance.
The conference's discussions and research will focus on the following areas:
1) Grounding the discussion surrounding religious minorities in Muslim lands in Sacred Law utilizing its general principles, objectives, and adjudicative methodology;
2) exploring the historical dimensions and contexts related to the issue; and
3) examining the impact of domestic and international rights.
This conference, with God's help and providence, aims to begin the historic revival of the objectives and aims of the Charter of Medina, taking into account global and international treaties and utilizing enlightening, innovative case studies that are good examples of working towards pluralism. The conference also aims to contribute to the broader legal discourse surrounding contractual citizenship and the protection of minorities, to awaken the dynamism of Muslim societies and encourage the creation a broad-based movement of protecting religious minorities in Muslim lands.