Over 40 heads of state and government, as well as 2,500 leaders from business and society will convene at the 46th World Economic Forum (WEF) Annual Meeting, from 20 to 23 January in Davos-Klosters, Switzerland.
Brian Grim will represent the WEF Global Agenda Council on the Role of Faith,* bringing a faith perspective and voice for freedom of religion and belief to the proceedings. For instance, Grim will participate in invitation-only sessions, including with Justin Trudeau, Prime Minister of Canada, on the global challenge of pluralism and diversity.
As chair of the Council on the Role of Faith, Grim will participate in the Global Agenda Global Council Chairs Workshop. The workshop will have remarks from business and civic leaders including Peter Bakker, President, World Business Council for Sustainable Development, and Al Gore, Vice-President of the United States (1993-2001).
In advance of the 2016 Davos meeting, Grim and his colleagues on the WEF Global Agenda Council on the Role of Faith have been putting together a toolkit on the role of faith in addressing global challenges. The most recent, prepared just for Davos, looks at the positive, negative and perspective-giving role of faith to key global challenges.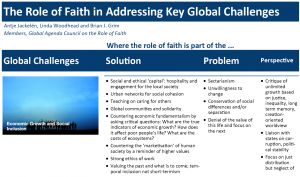 The Role of Faith in Addressing Key Global Challenges: This first-of-its-kind 2-pager is authored by the Archbishop of Sweden, Antje Jackelén, together with Prof. Linda Woodhead (UK) and Grim, and input from Council members.
Other pieces of the toolkit come from the work of various members of the Council. For instance, see Grim's highly cited article, The Link Between Economic and Religious Freedoms, and the joint statement by the Council published by Chris Seiple on What faith can do for 9 global challenges. Also see Can religion make economic growth more fair? (Grim & Woodhead) and Religion holds women back. Or does it? (Grim & Lyon).
Also see the global demographic and economic report, Changing religion, changing economies prepared for the Council, which draws on a 2015 global study published in Demographic Research and its connected Pew Research Center report, has profound implications for the global economy. The study shows that reports of the death of organized religion have been exaggerated. According to recent research, the growth of religious populations worldwide is projected to be 23 times larger than the growth of the unreligious between 2010 and 2050.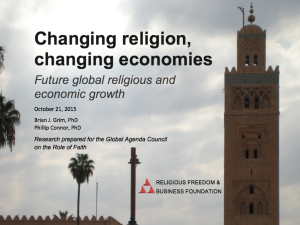 Against the background of the adoption of the Sustainable Development Goals (SDGs) and the conclusion of the COP21 in Paris, Grim will discuss how the role of faith can build or improve multi-stakeholder partnerships to successfully implement these and other policy frameworks to address global challenges.
Grim, who is writing a series of articles on the how religious freedom contributes to the SDGs, will help develop recommendations on how to make such partnerships effective and efficient to achieve transformative change on global challenges – from sustainable development to food security, and gender equality to inclusive growth.
The main theme at Davos 2016 is Mastering the Fourth Industrial Revolution. "The Fourth Industrial Revolution refers to the fusion of technologies across the physical, digital and biological worlds which is creating entirely new capabilities and dramatic impacts on political, social and economic systems," said Professor Klaus Schwab, Founder and Executive Chairman of the World Economic Forum.
Grim will participate in an invitation-only high level session to look at the role of religion and faith in the challenges posed by the Fourth Industrial Revolution. Also participating are Cardinal Peter Turkson President Pontifical Council for Justice and Peace and Bishop Marcelo Sorondo Secretary of the Pontifical Academy of Sciences.
In his book "The Fourth Industrial Revolution", Prof. Klaus Schwab calls for more cooperation and dialogue to build shared understanding around the values and ethical principles embedded in present-day staggering technological transformation.
The engagement of religion and faith leaders in defining the moral framework of tomorrow has become critical. Faith is an engine force in guiding societal and economic interactions, and it provides a moral and ethical compass to individuals and societies at large. In the ever-changing context of the fourth industrial revolution, religion and faith have the power to lift humanity into a new collective and moral consciousness by providing explicit ethical principles and comprehensive narratives on how we could make sense and shape current developments while having human dignity in mind.
The key question to be taken up is: How can faith influence (and be influenced by) the emergence of new technologies and what are the applicable values and principles that should be part of a new value framework?
Grim will also participate in discussions on how religions are adapting and evolving in 21st century societies. Issues to be covered include: Balancing modernist and fundamentalist tenets; Motivating action on the environment and inequality; and Attracting millennials to organized religion. Panellist include Bani Dugal Principal Representative Bahá'í International Community; Frank Fredericks Executive Director World Faith; Matthieu Ricard President Karuna-Shechen, France; Justin Welby Archbishop of Canterbury; Hamza Yusuf Hanson President Zaytuna College, with the discussion moderated by Thomas L. Friedman Columnist, Foreign Affairs New York Times.
Grim will add to the understanding the connection between religious freedom, security and the economy in a variety of encounters, including with Arab leaders. In an era of low oil prices and protracted conflict, how can Arab economies advance necessary reforms? Discussion leaders include: Suhail Bin Mohammed Al Mazrouei Minister of Energy Ministry of Energy of the United Arab Emirates; Khalid Al Rumaihi Chief Executive Bahrain Economic Development Board; Anas Khalid Al Saleh Deputy Prime Minister, Minister of Finance, Acting Minister of Oil Ministry of Finance of Kuwait.
---
* Members of the WEF Global Agenda Council on the Role of Faith include: Edward A. Bice; Dekila Chungyalpa; Brian J. Grim; Roshi Joan Halifax; Christopher Helland; Ahmad Iravani; Antje Jackelén; Liu Peng; Jo Anne Lyon; Sébastien Maillard; Carlos W. Martins; Oliver McTernan; Oliver Niedermaier; Niel Nielson; John O. Onaiyekan; Chris Seiple; Mona Siddiqui; Linda Woodhead.