WHEN: January 12, 2016 @ 10:00 am – 12:00 pm
WHERE: Knight Conference Center, Newseum, 555 Pennsylvania Ave NW, Washington, DC 20001, USA
COST: Free and open to the public. Registration is required.
REGISTER: RSVP
---
On Tuesday, January 12, 2016, we will co-host an event in anticipation of the President's annual declaration of January 16th as Religious Freedom Day, calling upon Americans to observe this day through appropriate events and activities.
Research and experience tell us that the success of the U.S. economy and society is due in no small part to the success we have had promoting a strong and religiously diverse workplace, one that includes and protects people of all faiths and none. Recent research, however, finds that more than one-in-three American workers report experiencing or witnessing workplace religious discrimination.
The event will discuss how businesses can successfully negotiate religious freedom and workplace issues. In an era when millennials are especially concerned for fairness and equality for all, respecting the religion and beliefs of employees is not only fair and good policy, but is also good for business.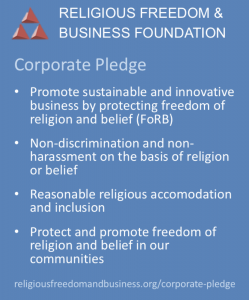 At the event, CEOs, representatives of major companies, heads of trade and commerce organizations, and the media will be introduced to a nonpartisan corporate pledge on religious nondiscrimination and inclusion in the workplace. This new resource and its associated resource documents will align with core American values of religious freedom while creating a more inclusive work environment that leverages religious diversity.
Gordon H. Smith, President & CEO, National Assoc. of Broadcasters, will give the keynote* 
Other speakers include:
The event is co-hosted by the Newseum Institute's Religious Freedom Center, the Religious Freedom & Business Foundation, and Tanenbaum Center for Interreligious Understanding.
Gordon H. Smith
NAB President and CEO
Gordon H. Smith joined the National Association of Broadcasters as president and CEO in November 2009. Prior to joining NAB, he served as a two-term U.S. senator from Oregon and later as senior advisor in the Washington offices of Covington & Burling, LLP.
During his tenure in the U.S. Senate, Gordon's committee assignments included the Senate Commerce, Science and Transportation Committee, the panel that oversees all broadcast-related legislation. He also served on the Senate Energy and Natural Resources Committee, the Senate Finance Committee and the Senate Foreign Relations Committee. Gordon's role on the Commerce Committee and as chairman of a Senate High Tech Task Force helped foster his interest in new media and new technology issues.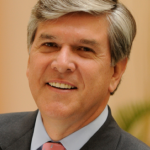 Born in Pendleton, Ore., Gordon attended college at Brigham Young University, received his law degree from Southwestern University School of Law in Los Angeles, and practiced law in New Mexico and Arizona before returning to Oregon to direct the family-owned Smith Frozen Foods business in Weston, Ore. Before his election to the U.S. Senate in 1996, he was elected to the Oregon State Senate, rising to the position of president of that body after only three years.
Gordon and his wife Sharon live in Bethesda, Md., and are the parents of three children and two grandchildren.