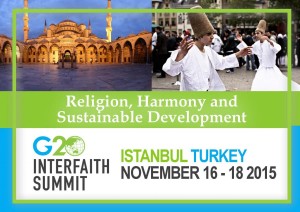 Press Release: RFBF President Brian Grim spoke at this week's G20 Interfaith Summit in Istanbul, Turkey. He spoke on how religious freedom contributes to sustainable development. He also highlighted the Foundation's interfaith Empowerment+ social cohesion initiative, which embodies why religious freedom is important: it sets people of faith free to do good.
Grim concluded with new research on how religious freedom is associated with gender empowerment and better lives for women. The research summary – written with Jo Anne Lyon, General Superintendent of the Wesleyan Church worldwide – was just published as part of Grim's & Dr. Lyon's work on the World Economic Forum's global agenda council on the role of faith.
The summit came in the wake of a series of terror attacks by ISIS in Beirut, the Sinai and Paris. This week's Weekly Number data blog looks at the growing level of religious hostilities that led up to the most recent attack.
See below for links to these resources.