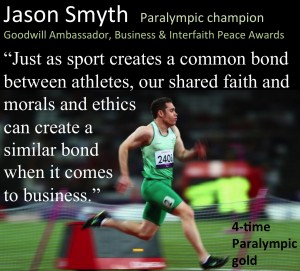 PRESS RELEASE: We are pleased to announce that a new Goodwill Ambassador for the Global Business & Interfaith Peace Awards is Jason Smyth, a four-time Paralympian gold medalist – the world's fastest Paralympic sprinter.
"I am honoured to be appointed as a Goodwill Ambassador and look forward to progressing the relationship between business and interfaith understanding. Just as sport creates a common bond between athletes, our shared faith, morals and ethics can create a similar bond when it comes to business." – Jason Smyth
Jason is attempting to be the first visually impaired person to qualify for both the Olympics and Paralympics, hoping to take on Usain Bolt in Rio next summer.
The mission of a global Goodwill Ambassador is to increase interfaith understanding and peace worldwide by being a spokesman for the global Business & Interfaith Peace Awards, which are being carried out in partnership with the United Nations Global Compact's Business for Peace group.
Jason was born and grew up in Ireland
. He was diagnosed with an eye disease
at 9 years old which has reduced his vision to under 10%. In spite of this, he has been blessed to have achieved some fantastic things in life thus far. He won gold medals in both the 100m and 200m In Beijing 2008 at the Paralympic Games whilst breaking both world records.
At the Paralympic Games in London 2012, he repeated these achievements and won gold in both the 100m and 200m, again setting new world records and becoming the fastest Paralympic athlete ever.
He narrowly missed out on making the 2012 Olympics by 0.04s. This was the first attempt in his quest to be the first visually impaired athlete to make both Games in the same Olympiad which I hope to achieve in Rio 2016.
Jason is married and a member of The Church of Jesus Christ of Latter-day Saints, making him a religious minority in Catholic-majority Ireland. He looks forward to being part of an interfaith Paralympian team of global Goodwill Ambassadors for interfaith understanding and peace, which is in the works. More to come, so stay tuned.