by Bruce Rahmani
In this "Leaders Speak!" edition, U.S. entrepreneur Bruce Rahmani argues that Iran is missing a great resource for economic growth by repressing the country's largest religious minority – the Baha'is. For instance, one noted Baha'i industrialist started Iran's first taxi business, brought Pepsi-Cola to Iran, and opened Iran's first TV station. 
Speaking as a man of faith and a man of business, I find important synergies between the two. My religion has instilled in me strong personal and community values, which have only strengthened my business practices, contributing to my goals as an entrepreneur and citizen. But there are places in the world that deny people both religious and economic freedom.
When I came from Iran to the United States, after spending three years as a student in the UK, I was able to build a new life for myself here and eventually open, with a partner, my own business. Our business employs about 100 people, doing sales, design, installation and service of heating and air conditioning systems in residential and commercial properties in Virginia, Washington D.C and Maryland. I have been fortunate to find success in business, and I feel lucky, as an Iranian-American, that I'm able to contribute to the growth and well-being of my community. But in Iran, my fellow Baha'is are not so lucky.
As members of Iran's largest religious minority community, Baha'is are banned from higher education and most professions, and often experience arbitrary arrest and detention. Yet, they have also shown a remarkable entrepreneurial spirit. Often, because of the restrictions placed on them, their only way to earn a living is to open shops and other small businesses. In this way, they have been able to support themselves and their families, and to contribute to the economic vibrancy of their communities.
Yet, the Iranian government persists in harassing these Baha'i business-owners. A recent spate of shop closings signals a worrying trend. Official crackdowns, extending from late 2014 until 2015, have meant increased hardship for the Baha'i community – which is already facing severe and persistent abuse by the government.
Imagine walking up to your storefront one morning and being confronted with the following sign: "This commercial unit has been sealed owing to violation of trading laws. The owner of this commercial unit should report to the police." You frantically think back on all your actions over the previous months. You have been scrupulous in upholding the law. But you also know, as a member of a persecuted religious minority, that the authorities can fabricate any excuse to throw you in prison. Here, in bold black letters, barring customers from entering your store, is just such an excuse.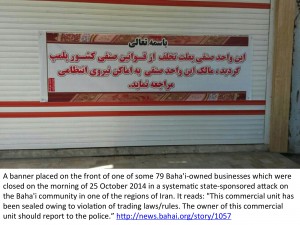 Signs of this nature have greeted many Baha'i business owners in recent months. According to reports, Iranian government officials sealed over 80 Baha'i-owned shops in Rafsanjan, Sari, and Kerman. The reason for these closings is highly suspect: the owners had temporarily suspended business hours in observance of a Baha'i holy day. Some businesses were permitted to resume operations, but not without further harassment.
These bullying tactics are especially damaging to Baha'is. It is one of the tenants of the Baha'i Faith that adherents cannot recant their beliefs, or claim to belong to another religion, even to protect their lives. Baha'is in Iran, despite efforts to control or convert them, have been steadfast in upholding their peaceful rights to freedom of conscience. They don't recant and they don't bend to subtle or overt pressure. They never respond with violence and they don't seek political power. Instead, they obey both the law of the land and the law of their conscience. As punishment, they may be arrested or imprisoned. Their property and burial sites are often destroyed or desecrated. And Baha'i businesses are subject to arbitrary closure.
Such a repressive environment not only harms individuals. It is destructive to the entire social fabric. We know that small businesses drive opportunity and growth. Thus, the Iranian government must do better, not only for moral reasons, but also for pragmatic ones, as the Iranian government is actually hurting its own economy by discriminating against Baha'is. Over the decades, Baha'is have shown their desire and determination to overcome government attempts to crush their spirit and deny them educations and livelihoods, and have found ingenious ways to contribute to Iran's economic and cultural life.
As early as the 1900s, Baha'is in Iran were key innovators in the fields of business, public health and interfaith relations. In those days, most people went to bathhouses to relax, socialize, and, in theory, get clean. But infectious disease was common, since water was changed infrequently. Baha'is were banned from public bathhouses once their religion became known. Instead of protesting, they showed their entrepreneurial spirit, opening bathhouses – with new, cleaner technology like showers – that welcomed people of all faiths. Throughout the twentieth century, many of Iran's Baha'is continued to find success in business and contribute enormously to their country's development. One noted industrialist started Iran's first taxi business, brought Pepsi-Cola to Iran, and opened Iran's first TV station.
With the Islamic Revolution of 1979, the opportunities available to Baha'is were dramatically curtailed. Still, most Baha'is want to stay in Iran and contribute to the advancement of their country. Despite longstanding persecution, they feel deep bonds to their culture and heritage. Sometimes, however, staying is not an option. For various reasons, including personal and family safety, some Baha'is choose to leave. This Iranian Baha'i diaspora provides further proof of what Baha'is are capable of: all over the world, Iranian Baha'is establish businesses, from carpet shops to high-tech start-ups, increasing prosperity in their adopted homelands. Baha'is in Iran ask for nothing more than the same opportunity – and the Iranian government would do well to welcome Baha'i businesses, rather than shuttering them.
The world's superpowers have shown great dedication in working out a nuclear deal with Iran. The same commitment and global willpower must be evinced when human rights and livelihoods are persistently and unjustly threatened. Business can be a tremendous force for social good, and protecting religious freedom in Iran – including that of religious minorities like Baha'is – can greatly increase the diversity and strength of Iranian business. It's long past time for the Iranian government to ensure that all of its citizens, including Baha'is, can freely contribute to the prosperity of their country.
See more "Leaders Speak!" entries.