Violence to Hindus in Bangladesh Includes Destruction of Businesses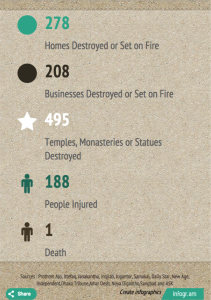 As Indian Prime Minister Narendra Modi begins a trip to neighboring Bangladesh on June 6, the RSS, a Hindu nationalist organization, is urging Modi to raise concern over the safety of Hindus living in the Muslim-majority neighbor. While the major focus of Modi's trip will be on collaborative enhancement of boosting economic engagement and expanding security cooperation, the concern for interfaith understanding and peace has some business implications.
Interfaith understanding and religious freedom are closely connected with peace and sustainable prosperity, according to research. Conversely, religious intolerance is associated with violence and the destruction of businesses, as documented in a new European human rights report.
The European Parliament Intergroup on Freedom of Religion or Belief and Religious Tolerance (EP Intergroup on FoRB & RT) presented its first Annual Report on the 'State of Freedom of Religion or Belief.' Below is the section on Bangladesh, which shows the impact of intolerance on the minority Hindu population of the country, including the destruction of businesses.
This marks a second year running where approximately 200 Hindu businesses in Bangladesh were destroyed in acts of religion-related violence. In 2013, 208 Hindu businesses were destroyed or set on fire (see chart above), and a similar number met the same fate in 2014.
"Although Bangladesh is officially a secular state, it considers Islam to be the state religion. Approximately 90 percent of its population are Muslim, 9 percent Hindu and the most of remainder Christians and Buddhists. There are no laws against conversion. However, Muslims seeking to convert may be facing notaries who refuse to register their document (ANC report, p. 2). Under the penal code, any person who has a 'deliberate' or 'malicious' intention of 'hurting religious sentiments' is liable to fines or up to two-years' imprisonment."
"Targeting of religious minorities is hardly uncommon, with Hindus, Christians, Buddhists and Ahmadiyyas coming under attack in recent years. While such violence was often perpetrated by the opposition-affiliated Islamists, the government and the police were not always seen to be prompt in protecting the affected minorities from abuses directed against them by nongovernmental actors, and government-affiliated actors have also been implicated in the instigation of such violence. According to Ain o Salish Kendra, the most important human rights organisation in Bangladesh, the violence against Hindus alone resulted in 2014 in 761 homes and 193 businesses destroyed; 247 temples, monasteries and statues vandalised; 255 persons injured, two raped and one killed."
For more on the state of religious freedom in the world, see the EP Intergroup on FoRB & RT Annual Report on the 'State of Freedom of Religion or Belief.