Washington, DC – (June 12, 2014) On 6 June 2014, Presidents and Seiple of the Religious Freedom & Business Foundation (RFBF) and the Institute for Global Engagement (IGE) signed a Memorandum of Understanding (MOU) formalizing the partnership between the two like-minded organizations that seek to build religious freedom worldwide.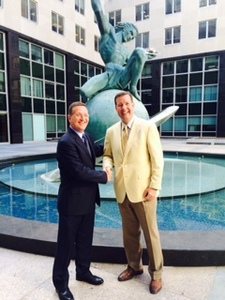 Grim & Seiple
"In line with the RFBF's mission to 'engage the business community in joining forces with government and non-government organizations in promoting respect for freedom of religion or belief', IGE's "track 1.5" approach, working at the nexus of governments and grassroots organizations, will complement the efforts of the RFBF. Having worked alongside Seiple and IGE for many years now, I am excited to see the fruit of our official partnership," noted Grim.  
In order to enhance the breadth of both institutions and discover new synergies and efficiencies, IGE and RFBF agreed to work together in good faith to expand existing programs and initiatives as well as create new ones. Potential areas of collaboration include, but are not limited to: A certificate program on international religious freedom promotion and socially responsible global business, offered in conjunction with one or more respected business schools; special issues of The Review of Faith & International Affairs (RFIA) on select themes; and, film documentaries of success stories of businesses that have made a difference for religious freedom.
"I greatly respect the work of my colleague and friend, Brian Grim. I look forward to deepening our working relationship through this MOU. Our organizations share a commitment to freedom of conscience or belief and track record of practical and mutually reinforcing innovation in this field," commented Seiple following the signing of the MOU.  
Formalizing such a partnership is a natural extension of existing synergies. Grim and the RFBF provide the quantitative metrics while Seiple and IGE provide the qualitative experiences. In addition to the formal partnership between the two institutions, Dr. Seiple also serves on Dr. Grim's Board of Directors. Grim is a member of the Religion and Foreign Policy Working Group, through the Federal Advisory Committee initiated by Secretary Clinton, of which Dr. Seiple serves as Senior Advisor. Grim was also recently invited to join the World Economic Forum's Council on the Role of Faith where Dr. Seiple serves as Chair.