Empowerment+  An Interfaith Social Cohesion & Enterprise Initiative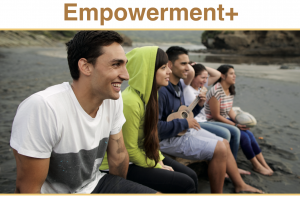 The Empowerment+ initiative fields interfaith teams that reach out to and mentor individuals, imparting practical spiritual and career skills through peer groups that focus on finding more than just a job, but employment that is meaningful and fulfilling. It will be piloted at Manchester University's Catholic Chaplaincy (UK) in collaboration with the Manchester Central Mosque and other faith partners. The overall project is coordinated by Brian J. Grim, PhD, Visiting Professor, School of Management and Social Sciences, St. Mary's University, Twickenham/London, and President of the Religious Freedom & Business Foundation.
Because the initiative will be staffed by university volunteers, it will be low cost but have high impact because it has the potential to scale up globally and equip many of thousands of volunteers to build relationships with many more thousands in university communities.
The Empowerment+ toolkit has 12-week multiple tracks, channeling participants to the most appropriate pathway for them. These include: Launching Leaders and My Job Search. Other tracks under preparation include Starting and Growing a Business and Education for Better Work. The Empowerment+ toolkit is intentionally designed to be used in a group (eliminating isolation), to provide practical results (overcoming desperation), to demonstrate acceptance (ending rejection), and to model the radical spiritual power of serving others (replacing spiritual anomie with spiritual groundedness).
These groups will address these human challenges by helping replace isolation, desperation and spiritual anomie with temporal and spiritual empowerment. The spiritual power of the approach is in giving those facing problems the opportunity to constructively help others in the group process.
One component of the initiative is focused on pairing participants with mentors. See what young adults think of this "Launching Leaders" component.
Volunteer mentors — composed of people with business know-how and sincere spirituality from various religious traditions — will use an interfaith self-reliance Empowerment+ toolkit to bring those at risk of socio-economic failure into a wider group of people who help each other acquire the key 'temporal' (earthly) and spiritual skills needed to be empowered and successful in the societies where they live.
---
The Empowerment+ foundational booklet and the accompanying materials for each track have been prepared to help people from any faith or belief background learn and put into practice principles of faith, education, hard work, and trust in the Divine, which we refer to as "the Lord" throughout the materials.
Accepting and living these principles will better enable you to receive the temporal blessings promised by the Lord. The "Faith Principles" in the materials apply to any faith, and you can find scriptural references from various faith traditions in the accompanying Interfaith Compendium.
We invite participants to diligently study and apply these principles and teach them to their family members. The materials are designed to help participants learn how to act on your path toward greater empowerment and self-reliance.
These materials are best used in groups of people who seek to help one another. The inspiration for this interfaith empowerment and self-reliance initiative comes from a famous story about loving our neighbors – The Good Samaritan. Although the Good Samaritan was a foreigner with a foreign religion, his care for the man left to die by the side of the road is the example of the love that people are called to show to others regardless of their faith or background.
So, the groups are not just about receiving love and help, but also the beautiful opportunity to love and help others.
The Religious Freedom & Business Foundation (RFBF) – a secular non-profit organization – is grateful to The Church of Jesus Christ of Latter-day Saints (LDS) for giving RFBF a license to produce and distribute this interfaith version of a successful LDS self-reliance program operated worldwide that has helped nearly a million of their own members.
The practical spiritual principles in the toolkit are supported by an Interfaith Appendix, with scriptures from multiple religious and belief traditions – including Humanism.
---
For more information, contact Brian J. Grim, PhD, Visiting Professor, School of Management and Social Sciences, St. Mary's University, Twickenham/London, and President, Religious Freedom & Business Foundation.