Nita M. Ambani
[DRAFT FOR APPROVAL]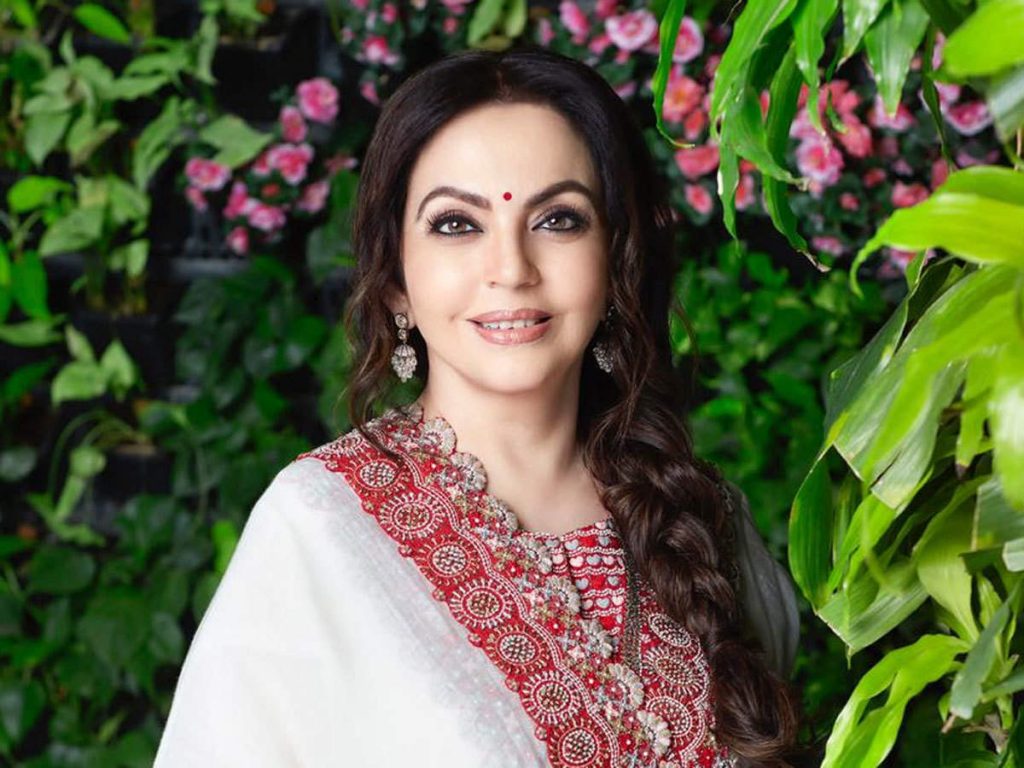 Founder and Chairperson
Non-Executive, Non Independent Director
India/Global
---
Summary:
2022 Global Business & Interfaith Peace Award
The gold medal in Philanthropy goes to Nita Ambani, Founder and Chairperson of Reliance Foundation and a Board member of Reliance Industries.
Mrs. Ambani has made significant contributions to and measurable progress toward the vision of an inclusive India where people of all faiths, backgrounds and abilities are included and empowered in the workplace, marketplace and society. The Reliance Foundation contributes to a positive societal impact through diverse community engagement initiatives.
Mrs. Ambani actively promotes sports as a means to bring cultures together and bridge gaps between communities and across generations. The Reliance Foundation Jr. NBA program, for example, is a comprehensive school-based youth basketball program that has reached more than 11 million children across 21 States and Union Territories in India since its inception in 2013.
Bringing people from various cultures together leads to an all-inclusive India and a more peaceful world. Mrs. Ambani's work on development through sports is advanced on a global level through her membership on the International Olympic Committee, a tangible demonstration of her commitment to development and peace worldwide.
---
---
About the Award
The 2022 Award will be given on the evening May 24, 2022, at Dare to Overcome, the Religious Freedom & Business Foundation's annual allyship conference and business for peace symposium.
The Global Business & Intercultural Peace Awards have been given in tandem with the Paralympic Games as part of former UN Secretary General Ban Ki-moon's UN Global Compact Business for Peace initiative in Rio de Janeiro (2016), Seoul (2018) and Tokyo (2021). In 2022 they will be given in Washington DC and then move onward to New Delhi in 2023 in tandem with the G20 Meetings hosted by India.
In 2021, the Awards were held in Tokyo in August and were keynoted by former Japanese Prime Minister Yukio Hatoyama. Awardees included the CEOs of Intel and Tyson Foods, both Fortune 100 companies. Previous CEO recipients come from companies as diverse as Ernst & Young, Hyundai, Kimberly Clark, and Berkshire Capital, and countries including Australia, Brazil, Canada, China, India, Indonesia, Iraq, Israel, Italy, Japan, Lebanon, Mozambique, Myanmar, Netherlands, the Palestinian territories, South Korea, UAE, Uganda, the United Kingdom and the United States.
---
Biography
Mrs. Nita M. Ambani is a Commerce Graduate from Mumbai University and a diploma holder in Early Childhood Education.
Mrs. Ambani is an educationist, philanthropist, businesswoman, patron of the arts, champion of women and children's rights and a noted proponent of sports. She is the Founder and Chairperson of Reliance Foundation, which has impacted the lives of over 45 million people across India through its initiatives in Rural Transformation, Health, Education, Sports for Development, Disaster Response, Arts, Culture & Heritage and Urban Renewal.
Mrs. Ambani provides leadership to 14 schools that have educated 78,000 students till date. She is the Founder and Chairperson of the Dhirubhai Ambani International School, which has been ranked as the no. 1 international school in India for the last eight years, and is also ranked among the top IB schools in the world.  She is also Chairperson of Reliance Foundation Institution of Education and Research, which is setting up the Jio Institute, envisioned as an exemplary multi-disciplinary university providing a world-class platform for research, innovation, and lifelong learning. The Dhirubhai Ambani Scholarship Programme, which enables students to pursue higher studies, has supported over 12,500 scholars, 20 per cent of whom are specially-abled and almost 50 per cent are girls.
Mrs. Ambani firmly believes that education and sports are the bedrock of any young, modern and dynamic society and is committed to building India as a multi-sports nation. The Reliance Foundation's Sports initiatives and its grassroots programmes, such as the Reliance Foundation Youth Sports, Reliance Foundation Young Champs and Reliance Foundation Jr. NBA have cumulatively reached out to over 21.5 million children and youth across India.
Mrs. Ambani is the owner of Mumbai Indians, which is a five-time champion of the Indian Premier League (IPL), making it the most successful IPL team. She is also the Founder & Chairperson of Football Sports Development Limited that launched the Indian Super League (ISL) in 2014, which has revolutionised football in India. She was the first Indian woman to be elected as a member of the International Olympic Committee in 2016.
Mrs. Ambani leads Sir H. N. Reliance Foundation Hospital and Research Centre, which provides international quality, affordable healthcare. It is the largest gold certified green hospital in Mumbai. The hospital has been at the forefront of India's response to the COVID-19 pandemic and set-up the first dedicated COVID hospital in Mumbai, providing free-of-cost top-quality medical care to the affected. Reliance Foundation's 'Health for All' initiative has provided primary medical care to over 2.5 million underprivileged people. Mrs. Ambani is also on the Advisory Board of Massachusetts General Hospital Center for Global Health. The Reliance Foundation Drishti programme has gifted vision to over 19,500 people through corneal transplants and its international Braille newspaper in Hindi reaches readers across India and 15 countries.
Mrs. Ambani is committed to preserving and promoting India's art, culture and heritage and is the first Indian Honorary Trustee of The Metropolitan Museum of Art, New York. Reliance Foundation has sponsored the exhibitions, Phenomenal Nature: Mrinalini Mukherjee (June to September 2019) and Modernism on the Ganges: Raghubir Singh Photographs (October 2017 to January 2018), at The Metropolitan Museum of Art and previously showcased the works of Nasreen Mohamedi (2016), the renowned Indian abstract artist. Reliance Foundation also sponsored the exhibition 'Gates of the Lord – The Tradition of Krishna Paintings' at the Art Institute of Chicago.
Through the years, Mrs. Ambani has received many awards and honours. The US magazine, Town and Country, recognised Mrs. Ambani as one of the world's top philanthropists in 2020. Fortune India ranked her as 'India's Most Powerful Woman', while Business Today featured her as one of India's most powerful women in 2020.  Mrs. Ambani was awarded the Best Corporate Promoter of Indian Sports' by the Times of India in 2019 and 2018.  She received the prestigious 'Rashtriya Khel Protsahan Award' by the President of India in 2017, for the outstanding work of Reliance Foundation in sports for development. She was also conferred with the 'Pravinchandra V. Gandhi Award for Excellence in Public Life' by the Rotary Club of Bombay and was awarded 'The Global Philanthropist and Leader of the Year Award' by Vogue India magazine. Mrs. Ambani was also honoured by The Metropolitan Museum of Art in 2017 for her philanthropic work, becoming the first South Asian to receive this accolade. Forbes Asia magazine ranked her amongst Asia's 50 Most Powerful Businesswomen in 2016.
Mrs. Ambani is on the Board of Reliance Industries Limited, India's largest private sector company and a Fortune Global 500 company. She is also on the Board of EIH Limited (The Oberoi Group).