Niklas Adalberth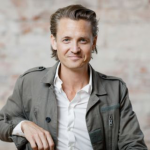 Founder, former Deputy CEO
Founder, CEO
Sweden
---
About Norrsken Foundation: We are a non-religious, non-partisan, non-profit Foundation with a strong belief in Effective Altruism. We support and invest in both for-profit businesses and non-profit organizations, whichever we believe is most likely to have a positive impact on society. Although we are based in Stockholm, Sweden, we see ourselves as world citizens.
---
Nomination in Brief
Niklas Adalberth invested his fortune from Klarna, a billion-dollar online payment company, into Norrsken Foundation which invests in tech-for-good startups such as the Welcome App (see below) that helps immigrants – many from the Middle East – integrate into all parts of Swedish society, helping them meet locals as well as get legal advice, and language and health help.
Read Niklas Adalberth 2018 Nomination form (Word Doc)
---
Bio
Niklas Adalberth is co-founder, former Deputy CEO and board member of Klarna, the leading European payments company with investors such as Sequoia, Atomico, and General Atlantic. Niklas has a master's degree in international business from the Stockholm School of Economics, where he founded Klarna together with his two co-founders, Sebastian Siemiatkowski, CEO, and Victor Jacobsson. Klarna is used by 50,000 retailers and 35 million people across Europe and launched in the UK in July 2014. During 2015, consumers in the US will also start buying with Klarna. He is foundaer and CEO of the Norrsken Foundation.
---
More Detail
Adalberth decided to spend part of his fortune from his company Klarna to create Norrsken Foundation, a foundation that invests in tech for good companies as well as building the largest coworking hub for tech for good companies based in Sweden. And they are looking to expand. They have invested in several initiatives that spearhead areas of social development such as Just Arrived who help newly arrived immigrants in Sweden access to the jobmarket; Welcome App – who target newly arrived immigrants and fascilitate channels for integration into all parts of society (meeting local residents, meeting other proffessionals, legal advice, language, health etc). To see full list of the social entrepreneurs they are supporting and backing, see their Incubator and Lab.
---
Nominated by: