Jason Smyth, 4-time Paralympian gold medalist
Goodwill Ambassador
The RFBF Goodwill Ambassador for the Global Business & Interfaith Peace Awards is Jason Smyth, a four-time Paralympian gold medalist – the world's fastest Paralympic sprinter.
"I am honoured to be appointed as a Goodwill Ambassador and look forward to progressing the relationship between business and interfaith understanding. Just as sport creates a common bond between athletes, our shared faith, morals and ethics can create a similar bond when it comes to business." – Jason Smyth
The mission of a global Goodwill Ambassador is to increase interfaith understanding and peace worldwide by being an RFBF spokesman for the global Business & Interfaith Peace Awards, which are being carried out in partnership with the United Nations Global Compact's Business for Peace group.
Jason Smyth and RFBF president Brian Grim recently got together in London (pictured below). 
Jason in Brazil
Jason is attempting to be the first visually impaired person to qualify for both the Olympics and Paralympics, hoping to take on Usain Bolt in Rio next summer. On Brazilian National Day, 7th September 2015, Jason Smyth crossed the finish line to be crowned 'Fastest Paralympian on the Planet'.
Winning the title capped a wonderful 10 day visit to Rio de Janeiro. Apart from training and competition, Jason also took advantage of his time in the 'Marvellous City' to undertake outreach and to promote understanding of Paralympic sport in local communities. During these activities, Jason met with hundreds of school children and teenagers, visited a favela/ slum community to talk about the transformative effect of sport and discussed realising your potential with a large youth organisation.
Jason's visit to Brazil was organised and facilitated by the Rio2016 Paralympic Organising Committee. In a visit to their headquarters, Jason discussed Rio's readiness for the Games, the promotion of ticket sales, community engagement and education with a number of the Directors. The organising committee thanked Jason for his assistance, allowing them to gain insight from an elite International Paralympic athlete.
Dominating the media coverage of the event, Jason was featured in all the main sports pages and TV segments. In recognition of his local popularity and friendship with Brazilian athletes, Jason was sought after by local and international media, completing numerous interviews for print, TV and radio.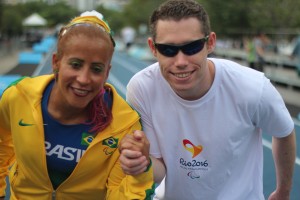 Jason is pictured with Brazil's Terezinha Guilhermina, Paralympic sprinter in the T11 category, and one of the faces of the Rio 2016 Paralympic Games. Jason would like to thank the Rio 2016 Paralympic Organising Committee for the invitation to compete in this unique race, as well as all the assistance and support received during his visit to Rio de Janeiro. He looks forward to returning in the near future, and of course, to competing for gold in the 2016 Paralympic Games.
Jason was born and grew up in Ireland. He was diagnosed with an eye disease at 9 years old which has reduced his vision to under 10%. In spite of this, he has been blessed to have achieved some fantastic things in life thus far. He won gold medals in both the 100m and 200m In Beijing 2008 at the Paralympic Games whilst breaking both world records.
At the Paralympic Games in London 2012, he repeated these achievements and won gold in both the 100m and 200m, again setting new world records and becoming the fastest Paralympic athlete ever.
He narrowly missed out on making the 2012 Olympics by 0.04s. This was the first attempt in his quest to be the first visually impaired athlete to make both Games in the same Olympiad which I hope to achieve in Rio 2016.
Jason, pictured below, chats to potential future athletes at the Instituto Francisca Paula de Jesus School in the Meier neighbourhood, Rio de Janeiro.
Jason is married and a member of The Church of Jesus Christ of Latter-day Saints, making him a religious minority in Catholic-majority Ireland. He looks forward to being part of an interfaith Paralympian team of global Goodwill Ambassadors for interfaith understanding and peace, which is in the works.