Faith@Work Matters (Draft – not for citation)
FAITH@WORK

THE NEXT BIG THING IN CORPORATE AMERICA IS HERE

Est. Word Count: 78,000


---

Edited by:
Brian J. Grim, Ph.D. (1A Perry Circle Annapolis, MD 21402 | 814-574-8672 | brian@religiousfreedomandbusiness.org)
Paul Lambert, M.A.
Kent Johnson, J.D.
---
Category (Business)
Genre (Nonfiction)
---
Synopsis
Something amazing is happening in America's most successful corporations. They're becoming more faith friendly. It's been decades in the making for some, like Texas Instruments. For others, like Salesforce, it's new and rapidly growing.
The Religious Freedom & Business Foundation's Corporate Religious Equity, Diversity & Inclusion (REDI) Index finds this trend is propelled by company-sponsored faith-oriented employee resource groups and other programs. Google, Intel, American Express and others score highly for supporting such initiatives. American Airlines does too. Their Chief Flight Controller is a priest and company chaplain. In fact, Tyson Foods has chaplains on staff across America serving the needs of all employees regardless of faith or belief.
Why do these companies do it? It's good for employees. It gives them a competitive advantage. And that's good for America. Faith@Work: The Next Big Thing in Corporate America Is Here captures voices from the burgeoning faith@work movement in Fortune 500 companies and beyond.
---
Chapter 1: Introduction
Brian J. Grim, Ph.D. 

Brian is founding president of the Religious Freedom & Business Foundation and lives at the US Naval Academy in Annapolis, Maryland, where his wife Julia Beth coordinates study abroad for the midshipmen. Brian was previously a senior researcher in religion and world affairs and director of international data at the Pew Research Center in Washington, DC. He is also former chair of the World Economic Forum's global council on the role of faith and a speaker at Davos. He and Julia Beth have lived and worked in China, the former USSR, Central Asia, Europe and the Middle East. He is author of scores of academic articles and books and is the world's leading expert on the relationship between religious freedom and the economy.
Faith and core beliefs are taboo topics in many workplaces. But that is changing. A gathering wind of freedom is gaining strength. It's accelerating in this time when employers are pressed – perhaps as never before – to find new ways to inspire and motivate their people to collaborate, create and execute business, often while working remotely.
In the wake of pioneering religious diversity work of companies like American Airlines and Texas Instruments, more leading companies are realizing that people's diverse personal faiths and beliefs give meaning and purpose to their work. These companies are leaning against powerful cultural forces that feed cynicism and fear about one others' motives. They're freeing employees to relate to one another on a more profound, heartfelt level. And in so doing, they're enabling authenticity, reconciliation and trust across cultural divides.
Increasingly, workplace leaders are realizing that their most powerfully impactful "products" are not limited to their physical, artistic and intellectual property contributions to society, and the economic prosperity they produce. They're seeing that through their day to day operations, they can also export a culture of respect, compassion and freedom… a different kind of "product" that enriches the entire world.
It's time for this change and this authenticity to take root, and to be welcomed and celebrated.
The Religious Freedom &Business Foundation's Corporate Religious Equity, Diversity & Inclusion (REDI) Index, discussed in Chapter 3, spotlights a diverse spectrum of companies where people are encouraged to bring their whole selves to work — including their faith! It's happening in companies like Google, Tyson Foods, American Airlines, Salesforce, American Express, PayPal, Intel and Texas Instruments.
In thousands of workplaces such as the military, hospitals, athletics, and even the US Senate, chaplains are a visible symbol of this movement. In other places, like many Fortune 500 companies, faith-oriented employee resource groups (ERGs) are proliferating. And in other companies, faith is part and parcel of the business itself.
A few years ago, I was asked by the Vatican to offer insights on how religious freedom relates to their seminal document on faith and business, The Vocation of the Business Leader. If you are familiar with Catholicism, a word in that document's title might seem out of place. Catholics often "pray for vocations," that is, they pray for young women and men to answer God's call to become nuns or priests. Is the Vatican putting businesswomen and businessmen in the same category as nuns and priests?
No and yes.
No, the Vatican is not asking them to become celibate as nuns and most priests are called to be. Yes, the Vatican is asking them to see their business work as a calling from God, a vocation. The document affirms the sanctity of everyday work and says that creating goods and services that make life better for people honors God and contributes "greatly to the material and even the spiritual well-being of society."
A main point of The Vocation of the Business Leader is that people must live a congruent life, one in which everything they do – at work, at home and at worship – aligns with the expectations of their faith. Of course, not all religions teach the same thing. But as you'll see in the essays in this book, bringing one's full self to work – faith and all – matters not just to Catholics and other Christians, but to people of every faith, from Ahmadiyyas to Zorastrians and everything in between, including Baha'is, Buddhists, Hindus, Jains, Jewish people, Muslims, Sikhs, and so on.
The Vocation of the Business Leader observes that the greatest obstacle to fulfilling this spiritual calling is not corruption, the absence of rule of law, greed, or poor stewardship of resources. Rather, the key barrier to this calling is the all-too-common practice of leading a divided life, where faith is checked at the workplace door.
For people of faith (regardless of religion), such a divided life is inauthentic. It requires that they essentially go "under cover" with their faith, as if their core identity were something shameful. This constraint saps energy, adversely impacts job satisfaction, and degrades performance. In fact, for many people of various faiths, perceived restrictions on religious expression at work cause just as much damage as denying the importance of other facets of one's identity that are protected as is religion by employment nondiscrimination law in the US: race, color, national origin, age, disability and genetic information, and sex (including pregnancy, sexual orientation and gender identity).
Religion is as integral to many people's identity as these other characteristics. As Julia Oltmanns of Zurich America says in her essay:
Over the years, the companies I had worked for had recognized my identity as a woman, but my identity in my faith is more important to me than my gender. Once the organization recognized that importance and supported my expression of my faith at work, I felt encouraged to be an integrated, aligned, values-driven leader in the company, allowing me to reach my full potential.
In a nutshell, that's why religious inclusion in the workplace is an imperative. I believe that the best and most convincing way to get that point across is by sharing with you essays from business leaders across multiple sectors and from multiple faiths in which they explain their "why," as Julia Oltmanns did.
At the same time, as I will demonstrate in the third chapter, the business case for workplace religious equity, diversity and inclusion is overwhelming. As companies globalize, they'll need employees who can relate to the daily experience of increasingly diverse customers. For billions of potential customers, including in the world's fastest-growing economies, religious belief and practice are a part of daily life. Having employees who understand the ways that faith and belief are manifest in private and public life will help companies avoid costly missteps and develop products and services better tailored to customer needs, which is an essential part of being competitive.
This is the first-ever volume where leaders from multiple faiths and sectors — including technology, industry, finance, nonprofits, health, the military and sports — describe why and how faith matters in their lives and in the workplace.
This is a book of vignettes, personal stories from workplace pioneers at all levels of their organizations whose lives have been enriched by a phenomenal worldwide movement of spirit. Their true stories offer powerful and realistic hope showing that deep trust is possible in work cultures, that compassion plays out in boardrooms and up and down reporting chains, and that people of widely differing faiths and worldviews can warmly connect on a profound level without compromising their core principles and beliefs.
Here you'll find glimpses of a fantastic, accelerating movement. Each connection described in these pages carries transformative power to heal and reconcile. It's not a single message broadcast from a single perspective. Rather, it's about hundreds of thousands of ad hoc, person-to-person interactions taking place in workplaces, day by day, characterized by listening, and learning, and caring, and reconciling. You'll read how bridges of trust and warmth are being built among Jews, Muslims, Sikhs, Buddhists, Christians, Hindus, the religiously devout of many ore faiths as well as among agnostics and atheists. In workplaces at home and abroad, people are being encouraged to live and speak openly in accordance with their core beliefs and personal "callings." It's amazing.
And it's not "just" about the workplace. What's going on in these arenas strengthens the fabric of civility throughout the world.
The contributors had significant latitude in what they wrote, but generally followed Simon Sinek's Why-How-What approach, focusing on their personal Why. They come from diverse faiths and beliefs including Christianity, Islam, Judaism, Jainism, Sikhism, Baha'i, etc. They do not water down their faiths or try to merge them with others. Instead, they bring their own authentic faiths to the table as they describe why faith matters in their workplace.
Contributors range from members of the Forbes billionaires list to owners of small businesses, both active and retired. They hail from some of America's most successful companies: Tyson Foods, Salesforce, Accenture, Intel, EY, PayPal, and include Ellen Barker (SVP Texas Instruments), Kathy Ireland (CEO Kathy Ireland Worldwide), Fr. Greg McBrayer (American Airlines, chaplain & chief flight controller), Rear Admiral Margaret Kibben, ret. (1st female US Navy chief of chaplains), Mohammed Faris (CEO Productive Muslim Co.), King Husein (CEO, Span Construction, builders of Costco stores), Rabbi Michael Shevack (creator of ads such as Gillette – The Best a Man Can Get).
These essays are organized into thematic chapters and form the heart of the book. To situate the essays in a broader context, we begin with three chapters providing an overview of the business case for workplace religious equity, diversity and inclusion — what we call religious freedom in business.
In the second chapter, Kent Johnson gives an overview of the faith@work movement from its early days. Kent spent most of his career at Texas Instruments as an expert on mergers and divestitures, product liability, antitrust, corporate governance and trade secrets. Today, speaking as the senior corporate advisor for the Religious Freedom & Business Foundation, he describes the movement from the vantage point of being one of its early pioneers. For more than twenty years Kent has been advocating for faith to be an integral part of workplace diversity initiatives. For him, it wasn't just a matter of assuring that his company provided the minimal "accommodation" of religion that's driven by US law. As he worked in his spheres of influence to help shape and maintain his company's ethical corporate culture, he saw a powerful connection with the faith and beliefs of Texas Instrument's diverse workers. Over time it became clear to many that faith and belief was an important facet of our employees' lives, one that warranted attention, appreciation and even encouragement. Kent describes how the company's efforts to encourage religious freedom has had a hugely positive, transformative impact even beyond the company walls.
In the third chapter, I show why it's tremendously important for business leaders to understand the religious dynamics that impact the workplace and the marketplace, coworkers and partners, customers and clients. In other words, to be religiously literate. Contrary to common misperceptions, data show that religious populations are dramatically outgrowing nonreligious populations worldwide, especially in emerging markets where Hindu, Muslim, Buddhist and Pentecostal Christian populations are growing. Companies that fail to consider the role of religion will be less successful in these markets than companies that are faith-aware. Companies that are sensitive to religious dynamics tend to have faith-friendly workplaces, embracing religion and belief as part of their broader equity, diversity and inclusion initiatives. As I show, companies' faith-friendliness is often driven by religiously literate and religiously active employees. I conclude the chapter by arguing that freedom of religion and belief in workplaces is positively associated with peaceful and sustainable human flourishing. This is an important part of the picture because, as studies by the Pew Research Center show, a powerful countervailing trend of rising restrictions on freedom of religion and belief is sweeping the globe.
In the fourth chapter, Paul Lambert, former assistant dean at the McDonough School of Business, dives into how faith is manifested in workplaces. Paul describes the main types of programs companies have adopted and why they have done so. He also gives an overview of the heart of this book — the reasons why people in workplaces say this matters. This personal "why" underneath the Faith@Work movement has never before been documented. By understanding the why, businesses can better make decisions on what they should do to become more religiously inclusive, and how to do it. There is no one-size-fits-all approach, but as Paul shows, there are key principles that can give any business tools for success.
The remaining chapters flesh out the human "why" behind these concepts.
It is important to emphasize that the faith in the workplace movement is NOT just about allowing people to join clubs with others who believe what they believe, and making them feel more appreciated (though that's helpful in its own right). It's also about building much-needed bridges across cultures. Taken together, the essays in this book illustrate — directly and indirectly — how a concerted, strategic focus on religious freedom for all can help strengthen cultures of trust, collaboration and warmth.
We need this! Our times are filled with distrust and cynicism about others' motives. Someone needs to cross over and relate on a more profound, heartfelt level. Now is the time for religious freedom in business to take off.
Finally, this book was written during the 2020 Covid-19 lockdown, which is mentioned by a number of the contributors. One unique contribution identifying this period is by Harold G. Koenig, M.D., the world's leading authority on religion and health. Just as his essay shows how faith brings healing and health to bodies, the other contributions show how faith brings healing and health to our society.
---
Chapter 2: The Movement
Kent Johnson, J.D.

Kent is Senior Corporate Advisor for the Religious Freedom & Business Foundation. Kent Johnson recently retired from his role as a Senior Counsel at Texas Instruments where he was a leading pioneer in bringing faith to corporate America.
The question "Why do we do what we do?" is getting a lot of play in business circles.
A recent special issue of the Harvard Business Review entitled "Leading with Purpose" highlights renewed business attention to topics like "Finding the Why in What You Do," "A Sense of Higher Purpose," "Creating Shared Value," and the "Implications for Government and Civil Society."  The human resource profession runs all sorts of conferences exploring how to move employees' "hearts and minds," to make sure they're "fully engaged" and that they feel free to "be their authentic selves." Diversity and inclusion programs have come to be embraced – rightly – as a key to spur creativity and productivity by acknowledging each employee's core identity. There's a lot of discussion of businesses enabling employees to "do good," to serve a "higher purpose," and to promote human welfare beyond "just" the profitability of the enterprise.
In a similar vein, lawyers, business schools, motivational speakers and the media often focus on the question of how employees are motivated to avoid unethical behavior and cover-ups. There's much discussion about the need for humble openness to correction and new ideas, the pitfalls of exclusively "top-down management" and the need for frank and authentic communication at all levels.
But there's something missing here. The Harvard Business Review piece, like nearly all business publications dealing with topics of personal motivation and matters of purpose, sidesteps the subject of personal faith and belief. The fact is, though, that for many, their faith is the inspiration and impetus behind their work's purpose. Faith has much to say about work.
I embraced religious diversity back in 1999, as a Senior Legal Counsel at Texas Instruments (TI), when a group of Christians – with very little else in common – came together and began thinking about how our faith "callings" and core values might be given voice in the corporation. Back then, very few companies had embraced employees' religious/spiritual identity as one of the key components of a diverse workforce. Race, gender and ethnicity were the main focus of the fledgling diversity movement, and sexual orientation was making inroads. Faith seemed to be a hazardous topic. Many worried that opening doors to "religious" communications would lead to friction, fear, judgmentalism and discord. Also, there was concern that a focus on employees' religion might distract workers from matters of business. Happily, TI became one of the pioneers in religious diversity. (See the essay by TI CTO Ellen Barker for more on that.)
Some thought it an odd choice for an expert on mergers and divestitures, product liability, antitrust, corporate governance and trade secrets to begin to focus mainly on religious freedom in business. But for me it wasn't a hard decision. I'd already been advocating faith in the workplace for many years. It wasn't just a matter of assuring that my company provided the minimal "accommodation" of religion that's driven by various laws. As I worked in my spheres of influence to help shape and maintain my company's ethical corporate culture, I saw a powerful connection with the faith and beliefs of TI's increasingly diverse workers. Over time it became clear to many that faith and belief was an important facet of our employees' lives, one that warranted attention, appreciation and even encouragement.  And over the years, TI's efforts to encourage religious freedom began to have a hugely positive, transformative impact even beyond our company walls.  I consider myself blessed to have played a small role in that journey.
I've seen Jews, Muslims, Christians, Bahai, Sikhs, Buddhists, and Hindus eagerly learning about each another's core principles and beliefs. I've known recruits who joined the company because TI provides an atmosphere where they can live out their faith openly, and not "under cover," where they can feel free to speak of what defines who they really are. I've seen atheists relishing the fact that they can "come out of the closet" and let others know of their core values and perspectives. I've seen a custodian quietly praying together with an executive over a personal loss and insightful business mentoring rooted in rigorous study of the sacred writings of various religions. I've experienced stirring worship, prayer and scripture study taking place in workplaces, open to every person regardless of background or inclination. When layoffs became necessary, I've seen people of various faiths draw such strength from their beliefs that they became comforters to their bosses – the ones who were tasked with delivering the bad news. Between LGBTQ people and advocates of traditional faiths, I've seen unwarranted walls of distrust and fear supplanted by deep respect, kindness and admiration. And tears of joy as people are acknowledged for who they truly are, collegial alliances in service to the needy, among people across faith divides, and bonding laughter. Lots of bonding laughter.
This is transformational stuff.
However, in many workplaces, faith is still today treated as an untouchable third rail. Touching it cause sparks and can be deadly. This approach stands as an affront to the many employees for whom faith defines their deepest, most profound identity: more than race, ethnicity, lineage. More than anything. When a culture intentionally (or unwittingly) constrains faith-related dialogue on topics that are relevant to work, it devalues these people. It sends a message that their core spiritual motivations are a hindrance to their work, a danger to be mitigated, and something of which to be ashamed. Such a culture forces employees to go "under-cover" with what means the most to them. They feel compelled to be inauthentic.
The good news, as evidenced by the research of the Religious Freedom & Business Foundation and the strong and growing support from industry leaders like Salesforce, Intel and others identified in the REDI Index, is that we've passed a "tipping point" for faith in the workplace, as we'll see in the next chapter.  More and more companies are opening doors to expression, worship, prayer, religious mentoring, and cross-faith celebrations and events. And real-life stories of the positive effects of such openings are now spreading widely, which you can read in chapter 5 and following.
Why is this important for a lawyer?
To my thinking, a healthy, ethical corporate culture must rest on more than written codes and compliance mechanisms.  What's needed is a connection with employees' hearts – the core values and beliefs that govern what they do when nobody's looking.
From whence does a worker draw courage to raise questions about safety or about compliance with ethical standards when it seems the pressure is predominantly on short-term profitability? Why draw attention to the fact that a supplier uses slave labor, or pollutes the environment, or discriminates against a group of people? When employees are being measured against one another, what impels them to humbly acknowledge mistakes, or to re-direct credit to someone else for a job well done? What motivates a worker to give attention to an introvert who's been overlooked, or to a person of another race, nationality, culture, religion or belief, when they've got a useful idea? Why would one visit a diverse coworker in the hospital?
The answer, for many, is that what moves them to do these things is their core belief. Their faith. Their ultimate "WHY."
This is emphatically NOT to say that people of faith are more considerate, more ethical or better employees than atheists or agnostics. Not at all! It is simply to note that for people of faith, their faith matters at work. Their faith inspires them and spurs them on to excellence. Similarly, many atheists would like others to know about their core beliefs and values. This facet of employees' humanity is not something to be shunned or shuffled under the carpet. Open and authentic discussion of core beliefs that have ethical implications helps maintain a healthy, ethical workplace culture.
There's a dark side of this topic as well. I've seen the destructive effects that come when workplace cultures stifle faith-oriented expression and practice. Where employees feel constrained to speak of heartfelt core beliefs only with people of "their kind," and suspicions tend to flare up about those who are "not like us."
Far better to encourage employees to bring their whole authentic selves to work, including, explicitly, their spirituality, than to force people to silently silo themselves into camps of mutual suspicion, the us-versus-them culture that is so counter productive.
This matters. It's a movement of global significance, and not "just" of importance to the businesses and workplaces that embrace it.
We're not simply speaking here about ways to make people feel more welcome and appreciated. It's not just about making workplaces kinder and gentler. In a real sense, this movement is at war. It's arrayed against the pernicious cynicism that characterizes much of public dialogue today, the kind of cynicism that presumes that people who are "not like us" harbor ulterior motives. That "they" distrust us. That "they" consider themselves better than us. Even that "they" hate us. This movement seeks to mend deep rips in the fabric of civility — rifts that are perpetrated when people are ignorant and suspicious of one another's core values and beliefs.
This movement embraces a hopeful view of human nature, but it is not an unrealistic one. The business case for action rests on the premise that the free marketplace of ideas will yield better, more robust decisions and policies. Implicit in the rationale is the proposition that people can respect and love those whose world views differ significantly from their own. A growing body of experience — including the original essays in this book — now confirms that this is feasible. Far from creating an oppressive environment for any employee, extending freedom of religion and belief tends to enable warm bonds of trust and friendship in diverse workplaces, provided that special care is taken to avoid any inkling of compulsion.
The success stories are multiplying. Our research summarized in the next chapter demonstrates that more and more companies are embracing religious diversity. And our first National Conference on Faith and Belief ERGs in 2020 was powerful, and more are coming. Monthly calls among representatives of various companies' faith-and-belief-oriented employee resource groups illustrate how the tide is turning at Intel, American Express, American Airlines, Salesforce, DELL, PayPal, and more. For example, see the LinkedIn group "Faith and Belief ERGs." There's lots of reason for hope.
A final observation: This is not a movement orchestrated by any one leader, group or religion. It's about millions of individual interactions taking place across the country and the globe, mostly behind the scenes, in companies and workplaces across the spectrum. It involves people of every race, religion, background, culture and orientation. One of the most powerful features of the faith in the workplace movement is its grassroots nature. To be sure, there are things that high-profile leaders can do to nurture this movement. Business leaders and faith leaders can officially unleash people of all faiths — and atheists, and agnostics — to engage openly with anyone who is interested to learn about their core identity and beliefs. But the enduring work of building trust, compassion and civility is accomplished not in the C-suite or through policy statements, but in thousands upon thousands of personal interactions characterized by a humble desire to learn about one another's ultimate "why."
For these reasons, we pray that the personal perspectives and stories in these pages will inspire and encourage you to embrace freedom of religious expression in your workplaces and to reach out for advice to those who've been down this road.
This matters. A lot.
---
Chapter 3: The Empirical Evidence
Brian J. Grim, Ph.D.
Since the late 1960s, businesses large and small have worked to ensure that employees of all backgrounds are welcomed in the workplace. These diversity and inclusion efforts, which initially focused on race and gender diversity, have rightly expanded to include sexual orientation, veterans, disabilities, age and more.
The 2020 Corporate Religious Equity, Diversity & Inclusion (REDI) Index study by the Religious Freedom & Business Foundation reveals that, of these diversity categories, religious inclusion has garnered the least attention by far despite the fact that the world is becoming more religiously diverse, and faith continues to be a core identity for the vast majority of workers worldwide.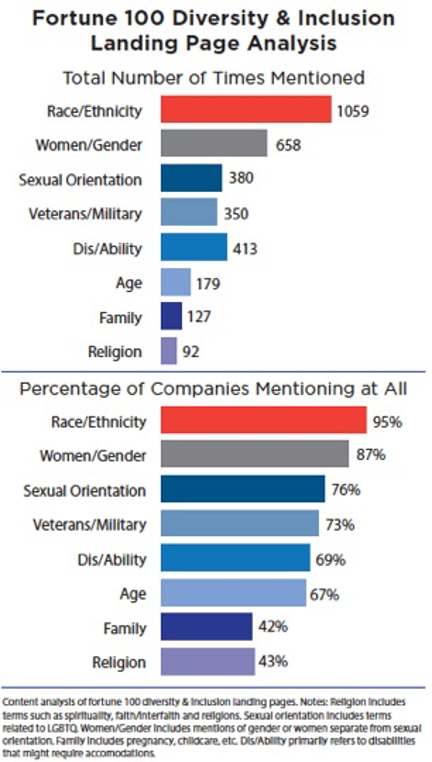 Employers have overwhelmingly excluded faith and belief from their corporate diversity initiatives. As an indication of this, most Fortune 100 companies fail to include even a single mention of faith or belief on their main diversity landing pages. Racial diversity, for example, is mentioned multiple times on 95% of landing pages for a total of more than 1,000 mentions. Religion is mentioned 92 times, across only 43% of the pages, putting it at the very bottom of the diversity and inclusion scale.
Religion is also at the bottom when it comes to one of the most potent programs corporations utilize for encouraging workplace inclusion – Employee Resource Groups (ERGs). Fortune 100 company webpages list 775 ERGs related to various affinities, but only 38 (5%) of these relate to faith or belief. That marks a stark contrast with the 298 ERGs for race, and 185 ERGs for gender or sexual orientation.
At the same time, contrary to popular impressions, religion is not in decline. An international data project that I helped developed when I was at the Pew Research Center estimates our planet will have 2.3 billion more religiously affiliated people by 2050, compared with just 0.1 billion more religiously unaffiliated people. By 2050, the top economies will shift from being majority Christian to include economies dominated by Hindus, Muslims, Buddhists and the unaffiliated. That means the world and its main marketplaces are becoming not only more religious, but also more religiously diverse.
Reasons for the neglect of religious diversity include fears that a faith-oriented diversity focus might negatively impact other inclusion programs, or that a particular religion would be dominant, or that opening the door to religious expression would spark conflict or distract from normal business.
While the figures seem to indicate corporate America is tone-deaf to religion and belief, they also point to some promising trends. Indeed, the REDI Index shows America is at a tipping point toward more faith-friendly corporate environments.
The study, released in early 2020, ranks for the first time Fortune 100 companies based on a variety of criteria related to their public commitment to providing faith-friendly workplaces. Perhaps surprising to some, technology companies are among the most faith-friendly. The company with the best score in the 2020 REDI Index was Alphabet/Google, with Facebook, Apple, Dell and Intel also making the top 10. Tyson Foods, Target, American Airlines, Goldman Sachs and American Express round out the top spots in the scoring.
These companies' efforts to create respectful environments for the faith and beliefs of their employees are diverse and can serve as models for other companies. Google's Inter Belief Network (IBN) has multiple member chapters, including ERGs for Buddhists, Christians, Jews, and Muslims. Tyson Foods, which tied for the No 2 spot on the REDI Index, employs chaplains in their plants across 28 US states to provide "compassionate pastoral care" to employees and their families, regardless of religious affiliation or non-affiliation. Intel, which also tied for second, has a variety of faith and belief ERGs including Agnostics and Atheists at Intel (AAI), Intel Bible-Based Christian Network (IBCN), Intel Jewish Community (IJC), and Intel Muslim Employee Group (IMEG).
Large US businesses have reached a tipping point in their acknowledgement of religious diversity. Among the manifestations of that tipping point are the following: Accenture, a financial industry leader in the US, recently hosted a nationwide webinar for its employees to promote bringing your "whole self, faith and all" to work. Salesforce's Faithforce, launched two years ago, is the fastest growing ERG in the company's history. PayPal launched its first faith-oriented ERG in 2019 as well. In 2019, Texas Instruments (TI) hosted a forum on religious diversity and inclusion at TI's global headquarters in Dallas, attracting participants from more than 30 different companies. And before the Covid-19 lockdowns, the Religious Freedom & Business Foundation co-hosted the first-ever national gathering of faith ERGs with the Busch School of Business in Washington, DC. The event was co-sponsored by Fortune 100 companies American Airlines and Tyson Foods and attracted participants from Accenture and American Express all the way to Walmart and Zurich America.
Perhaps the biggest indicator of a change in focus and attention is that, for the first time, Walmart recently launched a faith-oriented ERG and is actively engaging on the topic. When the largest of the Fortune-ranked companies enters this space, the rest are likely to follow.
While faith and belief is still excluded from most corporate inclusion programs, these kinds of encouraging developments signal that faith-friendly workplaces are poised to make significant gains in the immediate future.
The REDI Index also illuminates another important facet of this movement: Religious inclusion reinforces all inclusion and it is an important indicator that a workplace is welcoming for people all across the spectrum. Companies that include religion in their initiatives on equity and inclusion are stronger on each of the other seven diversity categories examined than are companies that do not include religion. The study refers to this positive association between religious inclusion and other categories of diversity as a "religion dividend."
For example, companies focusing on religion score 69% higher on age inclusion, 63% higher on veterans/military inclusion, 60% higher on dis/ability inclusion, 47% higher on race/ethnicity inclusion, 35% higher for women/gender inclusion, and 31% higher on family inclusion. While the smallest religion dividend is for sexual orientation (scoring 4% higher), it is still notable that the relationship is positive.
The positive connection is not merely coincidental. It is the result of efforts of people with different perspectives coming together in support of one another. For example, Salesforce powerfully showed that faith and LGBTQ communities in the workplace can be loving and supporting of one another. For some in the LGBTQ community, religion has been a source of the judgementalism Kent Johnson refers to in Chapter 2. But Saleforce's Faithforce tackled this assumption head on at one of their inaugural events called "Multiple Closets." At the event, Jewish, Muslim and Christian employees who were also LGBTQ shared their personal stories of 'coming out of both closets' – both as a member of the LGBTQ community and persons of faith. The event didn't erase all tensions for all people, but it opened a wide door for people to share honestly. This ability to have such open conversations is what makes stronger, trusting teams.
The REDI Index data also coincides with a 2019 global study by the Religious Freedom & Business Foundation, Religious Freedom and LGBT Rights, which empirically showed that religious freedom fosters a positive environment for LGBTQ people, and that LGBTQ rights are increasing in countries with higher levels of religious freedom. It also showed the converse, religious freedom is increasing around the world where LGBTQ people are more accepted. Indeed, it is a false dichotomy to put religious people on one side and LGBTQ people on the other side of the issue. Data from the Pew Research Center show that while LGBTQ people are not as religious as the general population, nearly one-in-two identify as Christian. And further, and additional 11 percent identify with other faiths, meaning about 6-in-10 LGBTQ people identify with a religious faith.
For more on the connection between LGBTQ and religious inclusion, see essays in this volume by Marian Edmonds-Allen and Rich Tafel in Chapter 10.
The drivers behind a greater corporate focus on faith are increasingly clear and make good business sense for companies in a global marketplace. They should not be ignored. When implemented equitably, faith-friendly corporations are more appealing from a recruitment and retention standpoint. They increase morale, reduce religious bias, enhance recruitment and foster greater collaboration, collegiality, creativity, productivity, commitment and innovation.
These findings, coupled with the personal observations provided in this book, provide compelling evidence that companies ought to embrace diverse faiths in the workplace. As the world becomes more religiously diverse, it is becoming clearer that to be religiously-tone deaf is a strategic liability. Research on religion provides a foundation for not only assessment but driving positive change to ensure that the global business community is at the vanguard of the effort to provide work experiences where employees reach their true potential. That means stronger, more resilient businesses and a better quality of life for people of all faiths and beliefs around the world.
---
Chapter 4: The What and The Why
Paul Lambert, M.A.

Paul Lambert is an executive education specialist and former Assistant Dean at Georgetown University's McDonough School of Business. Paul Lambert serves as Secretary/Treasurer and Senior Business Fellow at the Religious Freedom & Business Foundation. He is helping to develop the foundation's in-company and campus-based executive education seminars on religious diversity & inclusion in the workplace.
The faith and belief at work movement is not just a nice idea. Data and the experiences of so many in today's workforce shows that freedom of religion and belief is of great consequence for employees and companies. Many companies, like those referenced in Chapter 3, are finding that welcoming faith into the workplace greatly benefits their key bottom line indicators.
In this chapter, we will explore further what companies are doing to effectively address faith at work. We will also address the important question of why companies are finding success in this. In a related vein, we will introduce the heart of this book – the whys of employees regarding faith and belief at work: Why are many coming to the conclusion that faith at work is an important aspect of workplace equity, diversity, and inclusion? Why has it been so welcomed by employees across the industries, faiths, or beliefs? Why does creating a faith friendly or faith and belief accommodating workplace translate to business success?
What companies are doing
As discussed in Chapter 3, there are some wonderful examples of successful faith at work initiatives, such as the interfaith ERGs at Salesforce and Accenture, the specific faith tradition ERGs at TI and Intel, and the chaplaincy model at Tyson Foods.
It is important to note that each company that has built initiatives around faith at work has done so in a way that is specific and unique to its particular company context. Just as no two people are alike, company cultures are unique, comprised of different arrays of employees and different challenges. Accordingly, one of the first lessons for success in developing faith at work initiatives is that they need to be tailored to the company context in which they are being built!
A second important lesson from companies that have built successful initiatives is that they are not built overnight or without substantial prep work. We have found in our work that faith-based ERGs, for example, have much higher odds of being successful when the company already has a basic infrastructure of accommodation regarding diversity, and religious diversity specifically. Before a company can produce the buy-in and understanding necessary for a company-wide ERG to thrive, company leaders must understand the importance and positive effects of religious diversity.
That second lesson leads us to one of the other important first-step efforts that many companies are taking to start their journey in addressing faith and belief at work and build the environment and buy-in to make meaningful progress: basic training in how to accommodate faith and belief.
In the United States, the topic of faith and belief has often been considered something to keep personal in public or professional settings. This, of course, creates a challenge. Faith and belief (including agnosticism, atheism, etc.) are core parts of individual identity. We know the power and benefits of employees being able to bring their whole selves to work. Yet, this core part of employee identity has often been something employees have felt they need to downplay or even conceal in a workplace. Religion is often the elephant in the room.
It is not uncommon for employees to feel confusion and anxiety about their own and other's manifestations of faith or belief at work. Sadly, company cultures often suffer significantly as employees are forced to make assumptions about how they can or should address their faith at work, how others view them and their faith, and how all of that will impact their work and employment. Such confusion, ambiguity, and anxiety often lead to employment dissatisfaction.
The first step in addressing this challenge to have open dialogue and training on the topic. Providing a place for dialogue on faith at work removes ambiguity, clarifies policy, and allows individuals to feel that they have been heard. Training provides important tools for understanding diversity and establishing accommodation regarding faith at work. It seems simple, but open dialogue and basic training have profound effects in helping employees feel more able to be their whole selves in terms of their faith and belief, or no belief at all.
Another important lesson from companies succeeding in this area is that it's important to address faith and belief in the company's human resource and employee policies. Where there is clear policy regarding religious freedom at work, employees feel more confident in their ability to be themselves. This was illustrated in a 2014 survey, What American Workers Really Think About Religion by Tanenbaum, that found that employees are less likely to be looking for a new job in companies that do the following: provide their employees materials explaining their policies on religious discrimination, offer programs to learn about religious diversity, have flexibility in work hours for religious observance, have a clear process for handling employee complaints on issues related to religion, and allow personal days to be used for reasons that include observing religious holidays or events..
Having a clear policy on faith and belief at work provides needed clarity for employees, managers, and human resource professionals.
In our experience, every company that has taken steps to address faith and belief at work has done so in a unique way that reflects its unique culture and needs. Often, this change has started with small steps, such as creating a place to pray at work, recognizing and allowing flexibility around holidays of various traditions, providing a flexible dress code for religious clothing, or ensuring that there are appropriate dining options for those with religious restrictions. These first meaningful steps lead to additional innovations toward accommodation. Every initiative looks slightly different, and it should! That is diversity! The common objective is the ability to establish meaningful environments of accommodation that allow employees to feel freedom to be themselves.
The Why
Companies throughout the US are recognizing the need to address faith at work and are coming up with innovative initiatives to do so. We applaud those efforts. However, our intent with this book is not only to highlight examples of what companies are doing well. Our primary objective in this book is to highlight the why! And by the why, we are not just talking about the bottom line indicators, but the why of employees across industries, faiths, or no faith at all. This book seeks to demonstrate the power behind religious freedom at work through the words of the individuals that make up America's workforce.
Another important way to think about this is that before we perfect the techniques of addressing faith and belief at work, it is important to understand the why behind addressing it in the first place. Our goal is to help readers understand why faith and belief is so important for individual workers. If we overlook the why, faith and belief at work is simply reduced to another diversity variable rather than the powerful tool for employees and business that it can be.
When we started this project, we discussed what the right prompt would be for our contributors. We wondered if we should frame the responses or give guidance on how to respond. Ultimately, we decided that the best approach would be to leave it open to our contributors to tell their authentic stories. What resulted was a beautiful collage or personal expression, inspiring stories, and convincing evidence of the power of religious freedom at work.
The following chapters contain these personal expressions of why faith and belief matter in the workplace. We have collected the essays into chapters, with each chapter focusing on a different aspect of why religious freedom at work matters.
There are various themes that manifest themselves through this collection of personal essays. For example, one clear theme is that the ability to bring one's faith to work makes for better employees, both in terms of loyalty and appreciation to the company, but also in terms of their ability to do their best work. For so many people of faith, their work is a way to glorify their god, so feeling that they are free to bring their belief into work allows them to give freely of the very best they have to offer.
As one of our contributors wrote, "The call to serve God transcends not just home and personal relationships; it is why, even in the workplace, my faith informs who I am and how I lead." One of our contributing medical professionals noted, "Looking back over the past decade, there is no question that having permission to be authentic about my religious identity has been not only positive, but transformative. The discovery and clinical innovations that my colleagues and I have made in the area of spirituality and mental health have touched and helped thousands of people both within our hospital and around the globe, and even saved lives!"
For others, it was the existence of interfaith discussions that enhanced team dynamics and empathy among colleagues, with one contributor stating that, "we have been able to build interfaith friendships in a workplace environment that encourages us to work hand-in-hand toward corporate goals. Contrary to the advice to avoid religion in the workplace we have found that by embracing religion within the corporate environment, we have built friendships, enriched our lives, and tapped into the most powerful force of motivation for religious believers. And we have hopefully created a better place within our corner of the world."
Many articulated that the invitation to bring their whole selves to work – including their faith and beliefs – had a powerful positive impact on their workplace satisfaction, with one contributor writing, "acknowledging faith as an aspect of diversity is not just a nice thing to do for individuals. It's not just the kind thing to do for society. It's the right thing to do for the business: a recruitment and retention tool, a morale and productivity booster, a sales and innovation enhancer. It may be one of the biggest business boosters around."
These powerful themes and many more are included the chapters that follow. We are excited for you to be as inspired and persuaded as we are by this discussion of the why behind religious freedom at work.
We are convinced that empowering employees to fully be who they truly are is not only right for them, but right for business. In fact, we are convinced that religious freedom at work can be one of the greatest assets to any business and economy.
---
Chapter 5: Texas Instruments
Texas Instruments (TI) was one of the early pioneers to embrace diversity as a key element in its corporate culture. This is a company that truly embraces the premise that a diverse employee base facilitates fresh and valuable ideas, and that employees perform at higher levels when they're permitted to "bring their whole selves to work," faith and all. Today the company has 15 grassroots Employee Resource Groups (ERGs) that help foster and support a diverse and inclusive work environment. TI embraces people of all faiths, and its workforce includes people representing a broad array of Christian denominations, as well as Jews, Muslims, Buddhists, Sikhs and Hindus. Three of its ERGs are faith-based: the Christian Values Initiative, the Jewish Initiative and the Muslim Employee Initiative.
The story of TI's pioneering work in religious diversity was discussed by Kent Johnson in Chapter 2. The essays by TI leaders that follow in this chapter provide a direct peek into the company's culture today.
TI CIO Ellen Barker describes how TI's religion-based ERGs help overcome cynicism and distrust. Ellen notes that TI's religion-based ERGs have a same common purpose as all TI ERGs: (1) to instill and be stewards of a collaborative and respectful culture, (2) to cultivate talent and recruit talent, (3) to enhance business value through innovation and engagement, and (4) to give back to their communities through volunteerism and other types of support, believing that stronger companies create stronger communities and stronger communities build stronger companies.
Following Ellen's are essays by TI'ers representing three different faiths sharing how TI's faith-friendly policy has made a difference in their work and lives. Siraj Akhtar shares about the positive impact of the Muslim Employees Initiative, especially in combating negative stereotypes and prejudice. Craig Dalley, a Christian, and Marty Karnett, a Jew, talk about the amazing ways faith serves as a bridge between people who are different, rather than as a source of division, making faith@work a business asset. As Marty concludes, "I view our Diversity Network as a major differentiator in our industry which offers a competitive advantage by creating an environment which fosters a sense of family and open dialog to bring out the very best each of us has to offer in the workplace."
— Embracing employees' spirituality and core values gives a competitive advantage – Ellen Barker | Texas Instruments
— I Found My Voice – Siraj Akhtar | Texas Instruments
— It helps us work hand-in-hand toward corporate goals – Craig Dalley | Texas Instruments
— A major differentiator in our industry – Marty Karnett | Texas Instruments
---
Chapter 6: Salesforce and PayPal
Salesforce and PayPal are two recent entrants to the faith@work movement.
Salesforce launched Faithforce about three years ago. Faithforce is the interfaith employee resource group that is focused on celebrating, supporting and fostering understanding of faith and spiritual diversity through inclusive and educational events and initiatives. It's one of more than a dozen employee equality groups within Salesforce, with a common mission to make equality a reality both inside the company and in the communities in which Salesforce employees live and work. And to give legs to the mission to impact communities, Salesforce employees receive 56 paid hours a year to volunteer. Notably, 50% of Salesforce employees are part of an equality group.
Like all the companies represented in this book, Salesforce champions intersectional collaboration and allyship across the company. They do so in some fresh and creative ways, including events such as Multiple Closets (described in Chapter 3), which aim to cultivate and strengthen a culture of empathy, respect and belonging at Salesforce for people from all faiths, backgrounds, traditions and worldviews.
Faithforce is a fascinating model of robust pluralism in action. Faithforce is not seeking to make a "melting pot" where differences between faiths are quashed in favor of uniformity. This group demonstrates that interfaith groups need not water down their members' religious beliefs. To the contrary. Faithforce encourages people to bring their full religious self to the table in encounters that allow them to be authentic to their own faith as they work with others who are doing the same from their own faith perspectives. The lead article by Sue Warnke, president of Faithforce San Francisco, demonstrates how a dynamic recent convert to Christianity has been empowered and encouraged to live out her beliefs in a setting which also empowers and encourages people of a variety of other faiths, such as Muslim essayist Farah Siddiqui, to fully and unapologetically bring her faith to work as well.
Farah, the global president of Faithforce, shares one of the more personal essays of the book. She says, "It's incredibly personal for me. I don't need data to show me why faith inclusion and belonging matter. I don't need the numbers to show the impact lack of religious accommodations or support for our faith identities can have on employee morale. I don't need it because I know what it's like."
One of the significant experiences from the Faithforce story is that it was just an American religious minority (Farah) who sought a place to belong at work, but also a new member of the religious majority (Sue), who at first wasn't sure whether there was even another Christian in the whole company. Now both are thriving.
PayPal launched "Believe," their employee resource group for their Interfaith Diversity & Inclusion Community, on July 7, 2020, making them the most recent top company to join the faith@work movement. Although Believe was officially launched then, it had been in the works for some time, as we learn in the essay by Rebecca Pomerleau, one of Believe's founding members.
PayPal's statement at its launch captures several of the key themes discussed throughout this book: "We believe all employees have the right to bring their whole self to work. Faith and worldviews are core to who we are – our values and beliefs – and to how we conduct business. The mission of Believe is to foster an inclusive work culture and to promote holistic wellbeing by providing a forum to openly exercise and celebrate all faiths and worldviews while working. Believe exists to create awareness and understanding of faith, hope, love, empathy, respect for one another and service toward our customers, communities and co-workers."
— Improves recruitment, mental health and the bottom line – Sue Warnke | Salesforce
— In Search of Belonging – Farah Siddiqui | Salesforce
— It Can Heal the World – Rebecca Pomerleau | PayPal
— Success Factors for Forming Faith-based Employee Resource Groups – Rebecca Pomerleau | PayPal
---
Chapter 7: Intel
Inclusion is one of Intel's five key corporate cultural values that employees are educated and Our essayists from Intel provide more insights into religious diversity, and into positive impacts of the faith in the faith@work movement that are particularly noteworthy.
Inclusion is one of Intel's five key corporate cultural values that are instilled, strengthened and maintained through training and measurement as part of the company's annual personnel review cycle, a process that also impacts employees' compensation. Faith is seen as a part of the foundational cultural value of inclusion at the company, a facet of personal identity that nurtures strong and inclusive teams and allows employees to bring their best selves to work. Intel recognizes that these diversity efforts contribute to business profitability, employee satisfaction, recruitment, retention and powerfully strong teams.
Unique faith-based groups have existed at Intel since 1995. However, in 2019 a new Cross-Religion & Faith ERG Leaders Alliance was launched that brought together these groups, including: Agnostics, Atheists and Allies at Intel, Baha'i Intel Network, Intel Bible-based Christian Network, Intel Jewish Community, Intel Muslim Employee Group, and the Intel Sikh Employee Group.
The leader of Intel's Bible-based Christian Network, Craig Carter, initiated the forming of this interfaith team with the full support of HR, with the goal of building bridges of reconciliation across cultural divides. This is an example of a case where leaders from the faith that is thought to represent a majority of employees (in this case, Christianity) works to free people of other faiths to live out their faiths as well. When the majority faith sees pluralism as an opportunity rather than a threat, we can come closer to fulfilling our national motto: E Pluribus Unum, Latin for "Out of Many, One."
Craig Carter's lead essay is one of the grittier contributions to this book, sharing how this amazing interfaith collaboration developed during a period of tremendous upheaval in his own professional career. Not only did this revitalize his personal work life, it was literally life-saving for another member of the Intel Bible-based Christian Network, as the second essay by Pedro Quesada shows.
May Mowzoon's essay brings out another central theme of the faith@work movement. May describes how it's possible to live an authentic, congruent life at work.
And Hadi Sharifi succinctly and powerfully captures what many report as a benefit of the movement: "No more cold cycle of just going to work."
— Helps me to "be real" and to live my best self authentically at work – Craig Carter | Intel
— Maybe This Can Save a Life, Like It Did For Me – Pedro Quesada | Intel Corporation, Costa Rica
— Businesses that foster authenticity benefit from it – May Mowzoon | Intel Corporation
— No More Cold Cycle of Just Going to Work – Hadi Sharifi | Intel
---
Chapter 8: Accenture
Accenture's tagline is "Creating the most truly human company in the digital age." Ellyn Shook, Chief Leadership and Human Resources Officers at Accenture, wrote a compelling article on October 28, 2018, titled "Stop wondering is Faith is a workplace issue. It is." The date is significant. It is the day after the Tree of Life synagogue mass shooting in Pittsburg that claimed the life of eleven people and wounded six others including four police officers during Shabbat morning services. It was the deadliest attack on America's Jewish community in history.
Ellyn's article is available on LinkedIn and is worth reading. In it she mentions how the work of two of our essayists were instrumental in Accenture's response: Dan Eckstein, a Director in Accenture's Communications, Media and Technology practice and a co-lead of Accenture's Jewish employee resource group in the US and co-lead of our interfaith employee resource group in Metro New York, and Sumreen Ahmad, Global Change Management Lead and a leader of Accenture's interfaith employee resource group and their Muslim employee resource group in the US.
Mass killings like this one affect not only friends and family of those killed or hurt, but entire religious communities who feel vulnerable and wonder if their place of worship is next. Rather than retreat from the horror, Ellyn reached out to colleagues who could help find the words to discuss a way forward together. Sumreen shares a poignant email from Joyce Dubensky, CEO of Tanenbaum, an organization committed to combating religious prejudice across all faiths:
"Today, it was in a Jewish synagogue. Three years ago, in 2015, it was in a church and Dylan Roof slaughtered nine church worshipers. In 2012, it was in a Gurdwara in Wisconsin where Sikhs were praying. And last year, a bomb exploded in a mosque in Bloomington, Minnesota…. Today, we mourn. We condemn all who seek to terrorize us. And we prepare to stand together now and for the long-term, for justice, inclusion and a world that respects our differences – including how we believe."
Dan shares that his biggest concern was that employees would start masking their faith out of fear, and stop talking about their faith beliefs at work, stop requesting workplace religious accommodations, or stop wearing personal religious objects (crosses, Hijabs, Kippas, etc.). In short, hiding who they are.
— Forming Community from Diverse Worldviews – Elan Kogutt | Accenture
— Sparking the Flame of a Faith Community at Work – Dan Eckstein | Accenture
— To Lead is to Serve: Faith as a Path to Serve Humanity – Sumreen Ahmad | Accenture
---
Chapter 9: Chaplains at Work
We are accustomed to chaplains as a regular feature of institutions such as hospitals, prisons, police departments, the military and even sports teams, but in business? Yes, indeed. Not only do airports have chaplains, so do airlines, as we see in the essay by American Airlines' chief flight controller, who is also priest, workplace chaplain and the head of their Christian Employee Business Resource Group. Fr. Greg sees that the future of religion in America might actually be in the workplace.
Among the Fortune 100, Tyson Foods has the most well-developed chaplaincy program. The essay by Karen Diefendorf, Director of Tyson's Chaplain Services program, gives a peek inside the program that was established in 2000 to provide compassionate care to team members and their families regardless of their religious affiliations or beliefs. The program involves approximately 100 full and part-time chaplains at many Tyson Foods production plants and offices, providing access to a chaplain for many of their 141,000 team members. Tyson chaplains encounter team members who describe themselves across a broad spectrum: devoutly religious, spiritual agnostic, atheist, and uncertain. Tyson's Chaplains bring specialized training in belief systems that equip them to come along-side team members, listen to their story, and assist in utilizing the team member's beliefs to help them cope with whatever life brings.
The objective of the Tyson Foods Chaplain Services program is to live out their culture as a faith-friendly and inclusive company. Tyson understands that faith can be an important part of who team members are, and Chaplains provide a resource for spiritual counsel and to help manage crisis, celebrate milestones and help them work through their beliefs during a variety of personal and professional experiences. Chaplains make regular visits to Tyson's workplaces, whether on the plant floor or at team members' workstation, and are available for private counsel in the chaplain's office. Chaplains are available 24 hours a day, 365 days a year through the Tyson intranet and Chaplain Services home page.
This chapter concludes on a personal note common to almost every chaplain – a divine calling that goes back many years. This personal testimony comes from Rear Admiral (ret.) Margaret Grun Kibben, a U.S. Presbyterian minister who served as the 26th Chief of Chaplains of the United States Navy. RADM Kibben was formerly the 18th Chaplain of the United States Marine Corps (CHMC), the first woman to hold each office.
— Celebrating Second Chances – Karen Diefendorf | Tyson Foods
— Ministry Redefined: Bringing the Priesthood into Corporate America – Father Greg McBrayer | American Airlines
— Around the Campfire – Margaret Grun Kibben | Rear Admiral, US Navy, retired
---
Chapter 10: Multiple Closets
Chapter 3 already mentioned the Faithforce event "Multiple Closets," where Jewish, Muslim and Christian employees who were also LGBTQ shared their personal stories of 'coming out of both closets' – both as members of the LGBTQ community and as persons of faith. This chapter takes the topic deeper, illustrating that there is more common ground than there are differences.
Unfortunately, the phrase "religious freedom" in the U.S. has drawn fire in recent years, mostly centered on issues related to sexuality and marriage. Some view religious freedom as including a right to be free from compulsion to support actions or causes that their faith rejects, such as same-sex marriage. The other perspective sees such "religious freedom" as granting license to discriminate against people in the LGBTQ community, and a violation of civil rights law, (especially now that same-sex marriage is legal throughout the US).
From a research perspective, we have seen data showing that socio-economic wellbeing is related to both religious freedom and protecting the rights of lesbian, gay, bisexual, and transgender people to live openly without discrimination and enjoy equal rights, personal autonomy, and freedom of expression and association. If both are positively correlated with global economic growth, what is their relationship to each other?
The results may be surprising. As mentioned in Chapter 3, the 2019 global study by the Religious Freedom & Business Foundation, Religious Freedom and LGBT Rights, empirically showed that LGBTQ rights are increasing in countries with higher levels of religious freedom. It also showed that religious freedom is increasing around the world where LGBTQ people are more accepted. Moreover, it is a false dichotomy to put religious people on one side and LGBTQ people on the other side of the issue. Data show that 6-in-10 LGBTQ people identify with a religious faith, and with the vast majority of these identifying as Christian.
The two essays in this chapter provide compelling arguments by two leaders in faith inclusion and LGBTQ rights for why faith needs to come fully out of the closet. That may seem a strange idea since religion has been a specially protected category since the time of the First Amendment of the Constitution: "Congress shall make no law respecting an establishment of religion, or prohibiting the free exercise thereof…." Moreover, religion was included as a protected category in Title VII of the Civil Rights Act of 1964, a landmark civil rights and labor law in the United States that outlaws discrimination based on race, color, religion, sex, or national origin. LGBTQ workplace rights have only been affirmed in 2020 by the US Supreme Court as being fully protected by this same law.
Faith has retreated to the closet. The essays in this chapter provide insights for why faith needs to "come out."
— Faith is Coming Out of the Closet – Rich Tafel | Marcum Raffa Social Impact Advisors
— I am a person that scares people – Marian Edmonds-Allen | Parity
---
Chapter 11: Added Ethical Resources
Numerous contributors to this volume have argued that people of faith are not necessarily more ethical or more virtuous than those who do not embrace faith. Andrew Abela notes that there are plenty of religious people who don't carry their religion into the workplaces in his essay, (which was also the keynote presentation at the 2020 Faith@Work conference). He argues, from a Catholic viewpoint, that the traditional virtues are accessible to people regardless of whether they have a faith, or which faith they follow.
Shahed Amanullah makes a similar point in a very different way. He has focused his successful business career on applying his Muslim faith to what projects he takes on, but over time, he has slowly shifted from garage startups catering to his specific faith group to global investment in companies with mass appeal. "On the surface," he says, "it may not even be obvious that I adhere to any faith. But the fact is that I don't look at any aspect of what I do – fundraising, product development, branding, financial transactions, and even interaction between employees – without reflecting on how my faith governs that process even if at an imperceptible level."
The essays in this chapter, by business leaders speaking from Catholic, Evangelical, Muslim, Jewish and Sikhs perspectives, carry a common theme: In each case, their faith permeates their lives. It changes what they do in business and how they do it. That is important to the bottom line because, while people of faith do not have a corner on the market on ethics, they have belief systems that call them to high standards, which is a boon within any business. As Kent Johnson argues in Chapter 2, a healthy, ethical corporate culture must rest on more than written codes and compliance mechanisms. What's needed is a connection with employees' hearts – the core values and beliefs that govern what they do when nobody's looking.
— Virtuous Business – Andrew Abela | Busch School of Business
— Leveraging faith to provide something of value for all – Shahed Amanullah | Frost Capital
— Those who stand for nothing fall for everything – Amarjit Singh | EY
— The Pearl of Our Work – Jeff Haanen | Denver Institute for Faith & Work
— What does religion have to do with work? – Mohammed Faris | The Productive Muslim Company
— My Faith Informs How I Lead – Alissa Seiple | Decisive Data
— The Catholic Way of Work – Laura DeMaria | National Association for County Community and Economic Development
— The Sacrifices and Success of Service and Selflessness – August Turak | Forbes.com contributor
— People Will Always Remember How You Made Them Feel – Mark Sadovnick | 5th Element Group
---
Chapter 12: It's Good for Diversity
What makes faith inclusion good for diversity? Why focus on faith as a part of the larger diversity movement?
As Paul Lambert says in his essay, "looking at faith at work as simply an issue of diversity representation misses a significant aspect of the power of faith at work. Simply put, the ability for employees to fully live their faith or belief at work may be their greatest asset. When people can connect their work or learning with their deepest held beliefs, it changes the entire concept of work and learning." And that's why religious inclusion is an especially powerful aspect of diversity.
In Chapter 1 we noted that religion is as integral to many people's identity as other diversity characteristics including race, color, national origin, age, disability and genetic information, and sex. As Julia Oltmanns of Zurich America says in her essay: "Over the years, the companies I had worked for had recognized my identity as a woman, but my identity in my faith is more important to me than my gender. Once the organization recognized that importance and supported my expression of my faith at work, I felt encouraged to be an integrated, aligned, values-driven leader in the company, allowing me to reach my full potential."
In a nutshell, that's why religious inclusion in the workplace is an imperative. When people of different races, colors, national origins, ages, abilities and sexes are free to also bring their faith to work, it adds extra empowerment referred to in Chapter 3 as the Religion Dividend. Ingrid Vanderveldt's essay makes this point eloquently. Had she not been able to bring her full, authentic faith into the door of Dell, millions of women would be missing the empowering work she has and is doing to raise up women leaders and entrepreneurs in tech and finance.
Ambassador Suzanne Johnson Cook, CEO of the Black Women's Chamber of Commerce, reminds us that just as having a single tire be out of sync causes a car to wobble, so too will our lives wobble if we have no outlet for free expression of our faith and faith traditions. We must be free to practice that faith, live that faith, wherever we are, at home, in the marketplace, in the corporate workplace, or in public life.
— My Faith Identity Is More Important Than My Gender Identity – Julia Oltmanns | Zurich North America
— Empowering a Billion Women – Ingrid Vanderveldt | Empowering a Billion Women
— A Car Needs All Four Tires – Ambassador Suzanne Johnson Cook | Global Black Women's Chamber of Commerce
— Checking My Religion at Any Door Just Isn't Possible – Paul Lambert | Religious Freedom & Business Foundation, formerly McDonough School of Business, Georgetown University
Chapter 13: From a CEO's Perspective
Most of the contributors to this book are business leaders, but not CEOs. Company leaders are in a particularly sensitive position when it comes to faith at work. If they suggest, for instance, that people under them should consider how faith can be an asset, some might misinterpret that suggestion as a signal that success in the company depends of aligning with the particular faith of the boss. For this reason, special care is needed when CEOs and other top leaders speak on the topic of faith.
The Religious Freedom and Business Foundation encourages CEOs to take and put to practice the Corporate Pledge on Freedom of religion or Belief, which unequivocally supports freedom for people of all faiths. In 2016, the we issued the Corporate Pledge on Freedom of religion or Belief (the Pledge) and invited companies to sign on. The Pledge is predicated on protecting religious pluralism and freedom of religion or belief (FoRB), as it is articulated in Article 18 of the United Nations' Universal Declaration of Human Rights (the Declaration):
"Everyone has the right to freedom of thought, conscience and religion; this right includes freedom to change his religion or belief, and freedom, either alone or in community with others and in public or private, to manifest his religion or belief in teaching, practice, worship and observance."
Drawing on the Declaration, the Pledge outlines aspirational goals for corporate support of freedom of religion or belief within the workforce and in the nations and communities in which the signatories conduct business. These are:
1. Non-Discrimination and Non-Harassment on the Basis of Religion or Belief
2. Religious Accommodation and Inclusion
3. Promoting Sustainable and Innovative Business through Protecting FoRB
4. Protecting and Promoting FoRB in Our Communities
Promoting these principles are principles that align with diversity, equity and inclusion. Scores of companies have signed the Pledge, and the number of signatories continues to grow. One of the most recent signatories and a contributor to this book is King Husein, Chairman and CEO of Span Construction and Engineering, America's largest steel building engineering and construction company, which is operating on four continents, including being the exclusive builder for Costco Wholesale worldwide.
Each essay in this chapter speaks to the experience of thousands of top business leaders across the country who also bring their faith to work each day.
— More than the American Dream – Don Larson | Sunshine Nuts
— Keep Your Commitments: In Faith and In Business – King Husein | Span Construction
— The U.S. Senate's Unanimous Vote – John D. Beckett | R.W. Beckett Corporation
— Scripture says, "Faith without works is dead" – Kathy Ireland | kiW kathy ireland Worldwide
— Congruency in the Workplace – Steve Hitz | US-Reports & Launching Leaders Worldwide
Chapter 14: It's Good for Our Health
As mentioned in Chapter 1, this book was written during the 2020 Covid-19 lockdown, which is mentioned by a number of the contributors. One unique contribution identifying this period is by Harold G. Koenig, M.D., the world's leading authority on religion and health. Just as his essay shows how faith brings healing and health to bodies, the other contributions show how faith brings healing and health to our society.
Dr. Koenig's essay is followed by one by Dr. David Rosmarin, a clinical innovator at Harvard Medical School. He lays out the evidence for the psychological benefits of faith in the workplace. Given the stress that businesses and businesspeople will be facing in the months and years to come, employees' faith is a resource that all companies can access.
— The Role of Religious Faith in Protecting Against the Coronavirus – Harold G. Koenig, M.D. | Duke University Medical Center
— A Place for Faith Within Harvard Psychiatry – David H. Rosmarin | Harvard Medical School
Chapter 15: It's Good for the Long Haul
Religion is one of the few social institutions that accompanies people from cradle to grave. It marks rites of passage in youth, such as baptisms and bar/bat mitzvahs, and it is present in last rites and (in most religions) the hope of resurrection – that all is not done at death.
In their faith, people are much more complex than typical management training recognizes.
Two people who say they affirm the same faith may have very different perspectives and ideas. In fact, over time, an individual's faith is refined by life's experiences, learnings and trials. This is the natural course of every human soul. David Brenner traces how his faith and work have developed, and how much richer it becomes over time. Where a person is today is not where he/she will be in a year. Accordingly, religious freedom in the workplace must allow for that development, which is the natural course of every human soul.
In that vein, this final chapter ends with a description of how faith@work has played out Brian Grim's own life course, and why he has committed his life to religious freedom in business.
We hope this book encourages many more workplaces to join the movement. It's good for people, good for business, good for our country, and good for the world.
— Faith at Work Over the Life Course – David Brenner | Faith and AI
— Faith: Knowing We Can Together Witness a Brighter Tomorrow – Samar Ali | Bass, Berry & Sims PLC.
— A Catholic Revert – Captain Janie Weishaar | Southwest Airlines Pilot
— Freedom: For Profit and Prophet – Rabbi Michael Shevack | The Patton Foundation
— Be a Blessing – Lucas Devine |GE Healthcare
— Faith and Brand Experience – Sheri Lyons |Ken Blanchard Companies
— Go Forth and Set the World on Fire – Brian Grim | Religious Freedom & Business Foundation
---
Chapter 16: Appendix
The Religious Freedom & Business Foundation hosts a call for the faith and belief employee resource group community. A number of these companies are working with us to develop case studies of their different journeys towards being faith friendly. (That will be the topic of a future publication.) We end this book with the case study of Dell Technologies' Interfaith Group, a journey they hope other companies can learn from.
— Case Study from Dell Technologies – Paul Lambert | Religious Freedom & Business Foundation
Greg Clark – Do not be condescending to others faiths
---