Combatting Antisemitism and All forms of Religious Bias and Discrimination
US National Strategy & Our Pledge (link)
A new study finds that extensive antisemitism has nearly doubled in the United States between 2019 and 2022. In 2022, 20% of American held extensively antisemitic views, up from 11% in 2019. The nationally representative survey by ADL measured the level of antisemitism by the number of negative anti-Jewish tropes people surveyed agreed with. Nearly half of the anti-Jewish tropes people agreed with were associated with business (see chart here), which makes business a key sector of society that must engage in combating these prejudices.
In response, the Religious Freedom & Business Foundation has pledged to work with ADL and AJC to provide resources to all companies to help them combat antisemitism and all forms of religious bias and discrimination. This page provides such resources and will be updated regularly as additional resources come on line.
If your company wants to get involved, contact us!
Understanding the New Antisemitism (link)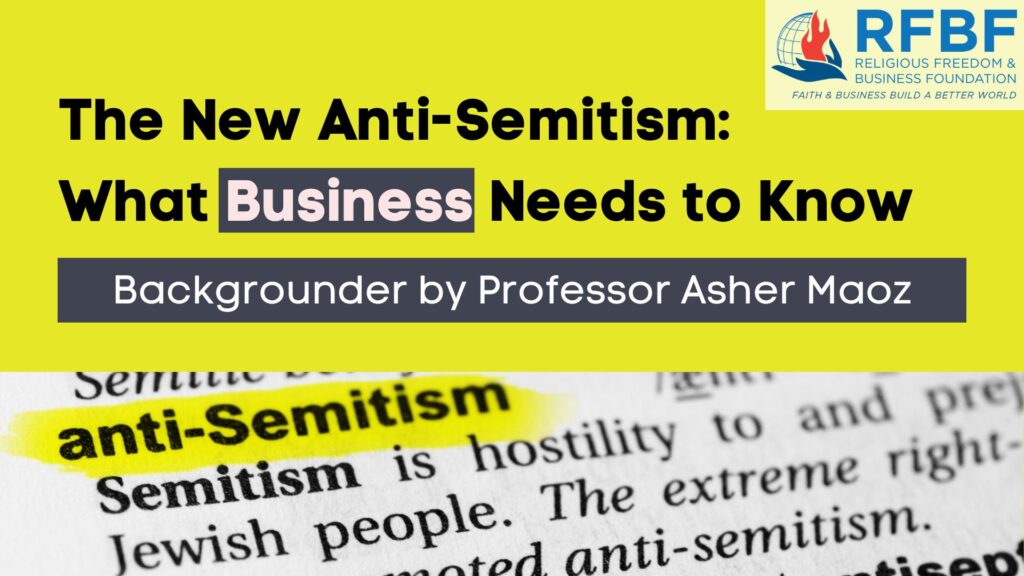 Latest resource:
–
---
EEOC Resources
ADL Resources
ADL has a series of tools for businesses to use, some drawing upon the research and work of the Religious Freedom & Business Foundation. For example, citing our Corporate Religious Equity, Diversity & Inclusion (REDI) Index, ADL suggests that forming Jewish employee resource groups (ERGs) as a way to both raise awareness of this problem as well as provide support structures for Jewish people and their allies in workplaces.