Bringing Religious Literacy to Business Schools: Funding Prospectus
One of the greatest misconceptions about business is that Corporate America is not faith-friendly. While perhaps true in some quarters, nothing could be further from the truth in some of the world's biggest and best companies ranging from Google to PayPal and American Airlines to Tyson Foods. Why are they are part of a faith-friendly movement? Because it benefits the bottom line by increasing recruitment & retention as well as reach & revenue.  
The Religious Freedom & Business Foundation (RFBF) invites funders to join with us in scaling up our national and international corporate religious literacy initiative by incentivizing faculty and researchers from leading business schools to research, write on and teach about this exciting movement.
RFBF is uniquely positioned to provide leadership to such an initiative for three important reasons:
— RFBF is recognized as the go-to source for workplace religious literacy training, consultation and resources.
— RFBF is recognized as the standard-setting organization for businesses committed to workplace religious inclusion and freedom.
— RFBF's reach is national and global:
---
(1) Corporate Training
---
This training program was created to train business leaders about how creating faith-friendly and accommodating workplaces is good for business at all levels. The training model is built on three pillars: Knowledge, Skills, and Action.

The Knowledge pillar allows training participants across an organization to understand the basics of the law regarding religious freedom at work and the business case for creating religiously accommodating workplaces.
The Skills pillar introduces skills and best practices on how to build religious literacy and create religiously accommodating workplaces. As outlined below, we have developed numerous video case studies to help professionals practice these skills and written case studies to help professionals see how other companies have succeeded in this area.
The Action pillar takes the lessons learned from the Knowledge and Skills pillars and applies them to the specific context of the given business. Participants are able to build strategies on how they will implement lessons learned using the resources provided in the training.
This training model, combined with the teaching resources we've developed below, has proven to be a very successful model for corporate training.
Resource Example 1 – Video Case Study: We have developed an engaging series of video teaching prompts, such as the one below. Each video case study depicts real-life scenarios in a workplace. Each scenario comes with individual and group work to assist participants in analyzing the situation and applying appropriate religious diversity, equity, and inclusion accommodation principles.
---
Resource Example 2 – Written Case Study: Each written case study tells a unique story of how a given company has brought faith and belief accommodation into the workplace. As every company is different in their structure, employee demographic, and mission, each case study highlights unique challenges and lessons learned. For instance, the Texas Instruments Case Study highlights how the company overcame concerns among employees that creating a faith-based employee resource group would negatively impact LGBTQ workers at the company.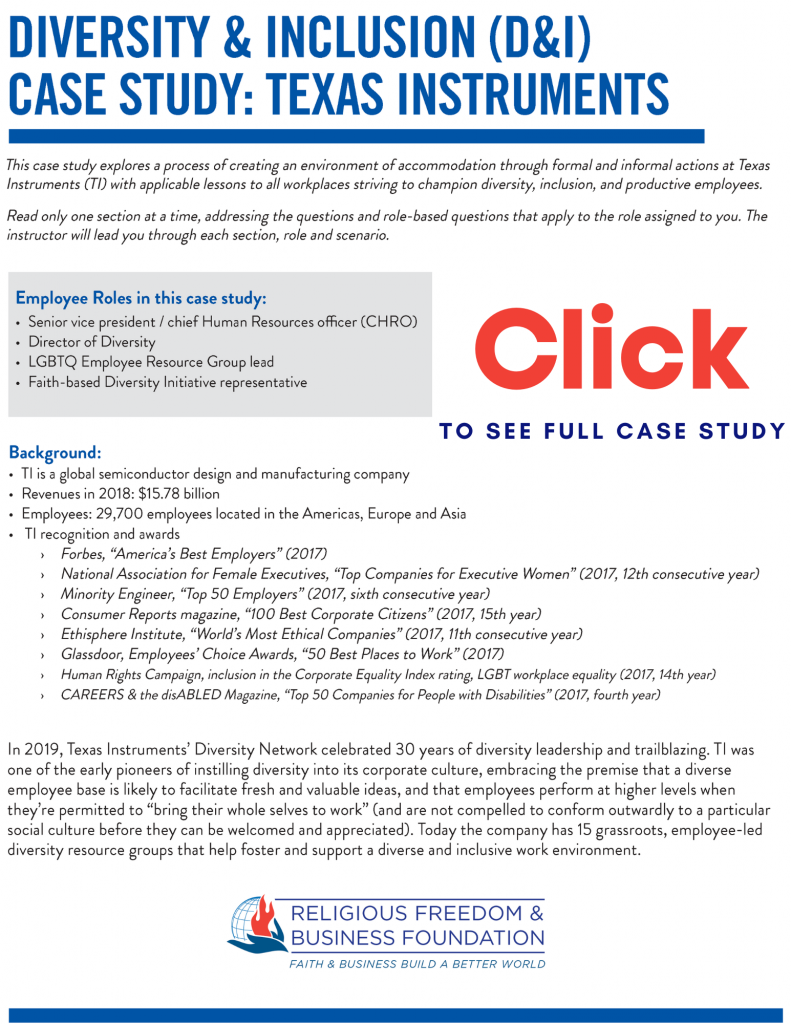 ---
---
Resource Example 3 – Tools to Help Launch Faith-Based Employee Resource Groups: Given RFBF's expertise in addressing faith and belief in the workplace, many companies have sought our guidance in helping them launch new faith-based initiatives in the workplace, especially the development or growth of employee resources groups (ERG). In fact, Dell Technologies attributes the launch of their ERG, Interfaith, to the work of RFBF.
The following video discussion reflects the guiding principles we developed to help companies on this topic.
---
2) REDI Index
The Corporate Religious Equity, Diversity, and Inclusion (REDI) Index was first launched in February 2020, measuring the commitment of Fortune 100 companies to creating faith-friendly and accommodating workplaces through analyzing their public facing diversity, equity, and inclusion website landing pages. The 2020 Index received significant attention, particularly for the companies that were recognized for scoring in the Top Ten.
Since the 2020 REDI Index publication, many companies have become involved, seeing the REDI Index ranking as a way to demonstrate their commitment to accommodating workplaces. The Index was a catalyst for bringing companies like American Airlines, Intel, PayPal, Dell, and American Express together to work with the RFBF in expanding faith and belief accommodation initiatives in corporate America.
The 2021 REDI Index was published in February of 2021 and expanded the analysis to the Fortune 200. The impact has accelerated, bringing in new partner companies and organizations, including Google and the EEOC.