Brian's Calendar
Brian J. Grim, Ph. D., is president of the Religious Freedom & Business Foundation (RFBF) and a leading expert on international religious demography and the socio-economic impact of restrictions on religious freedom.
Brian has appeared as an expert on global religion on numerous media outlets, including CNN, BBC, Fox, CBS, C-SPAN, and regularly presents to high level audiences throughout the world including the White House, State Department, the World Economic Forum, Horasis Global Meetings, The Meeting at Rimini, the European Parliament, the Vatican, and various the United Nations bodies including the Human Rights Council, and the UN Alliance of Civilizations and the UN Global Compact.
---
Join hundreds of academics, religious freedom advocates, public officials, attorneys, and religious leaders from around the globe for the 8th World Religious Liberty Congress.
Our line-up of plenary speakers for the 8th World Congress for Religious Freedom together represent an extraordinary breadth of experience and expertise in the field of religious freedom and peace-making. These internationally renowned scholars, public officials, religious leaders, and advocates come from a broad range of faith traditions and represent some 20 different nationalities.
Hear internationally renowned speakers and experts, and choose from a broad range of breakout groups available in English, Spanish, Portuguese and French. (Translation in these languages will also be provided for plenary sessions.) Engage with an issue that has become increasingly urgent within today's geopolitical landscape: Religious Freedom and the Hope for Peaceful Co-existence. Make valuable contacts within the international religious freedom community.
---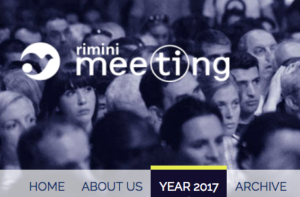 During the last week of August, Rimini becomes the international capital of culture and gets invaded by "the people of the Meeting," as the media described it: people that are curious, open, able to judge, come from all over the world for this event that takes place every year since more than thirty years. Since the beginning, the Meeting has bet on the desire and the passion that each man has in his own heart, the desire for beauty, truth, and justice that Father Luigi Giussani, founder of the movement Communion and Liberation, has called elementary experience, common ground for encounter and dialogue.
"I never had such an audience; after meeting these young people in Rimini i am more optimistic abou the future of humanity."
Abdus Salam, Nobel laureate in Physics in 1979
"I traveled around the world many times but i never met anything similar to this. Thousands of people come here to listen to a lesson about Beethoven, to visit an exhibition about the origin of light, or to attend a conference with a philosopher. The Meeting has te be experienced, lived in order to undertsand its full and extraordinary combination of vitality and gravitas."
Joseph H. H. Weiler, University professor at New York University
---
European Platform against Religious Intolerance and Discrimination (EPRID) Event in the European Parliament on Religious Freedom and Business: Wednesday, 6 September 2017 – 14.00-16.00 h, European Parliament, Room A5E-2
EPRID, in cooperation with MEP Ramon Tremosa i Balcells, is organising an event in the European Parliament with Dr. Brian J. Grim, CEO of the Religious Freedom and Business Foundation, Dr. Ján Figel', Special Envoy for the promotion of freedom of religion or belief outside the EU, business leaders and representatives of EU institutions to examine the relationship between business, human rights and particularly freedom of religion or belief.
Please register your interest or confirm your participation using the form below. In both cases, updates on the agenda and the speakers will be sent to you as they become available.
https://goo.gl/forms/La5Wu5CzDm9whGBH3
---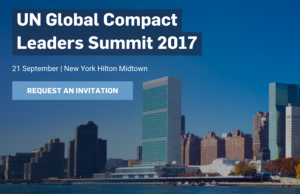 The UN Global Compact Leaders Summit (21 September, New York) brings together an international community of leaders from business, civil society, academia, Government and the United Nations to accelerate local and global business action and partnerships to achieve the UN Sustainable Development Goals (SDGs).
With less than 5,000 days to meet the 17 Global Goals by the 2030 deadline, the Leaders Summit seeks to challenge the status quo and the business-as-usual mindset. Featuring progressive and exciting plenary speakers alongside SDG-themed networking opportunities, the Summit will focus on how the UN Global Compact community can deliver measurable impact for sustainable development.
By raising the ambition level, driving innovation and measuring the impact of responsible business action rooted in the UN Global Compact's Ten Principles, we can ensure a more sustainable, equitable and prosperous future for all.
Many different events are organized in and around UN General Assembly Week with a business focus or that welcome private sector participation. Some are organized by United Nations entities, while many others are convened by outside organizations. This guide (link) is a compilation of events which may be of interest to companies attending the UN Private Sector Forum and/or the UN Global Compact Leaders Summit.
---