Dr. John Gathright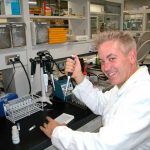 Founder
Professor, Bio Agricultural Science
Japan
---
Summary:
2021 Global Business & Interfaith Peace Award: People with differing physical or emotional abilities often feel like outsiders in life. Dr. John Gathright believes principles of kindness, love, peace, understanding, diversity, and a sense of global family can bring different groups together. Dr. Gathright founded Tree Climbing Japan, helping children of differing faiths, abilities, and challenges come together to find an increased self-confidence through embracing the challenge of climbing trees. The program's goal is to help all children grow up like magnificent trees, standing tall and strong, kind and unique, and helping each other. Tree Climbing Japan has helped thousands of people feel included through tree climbing activities all over the country. This has produced a better awareness and appreciation for all people, despite their differences.
Nominated by:
Public Affairs Representative
The Church of Jesus Christ of Latter-day Saints
Biography
John celebrates Diversity and Inclusivity — in religion and abilities — through his various programs such as TreeHab, a scientifically designed rehabilitative tree climbing therapy program. Dr. John Gathright holds a Doctorate in Bio-Agriculture from Nagoya University, and founded Tree Climbing® Japan in 1997, which is Japan's first technical tree-climbing school. Tree Climbing Japan has grown into a national organization with 4,000 certified tree climbers who have helped over 250,000 people of all abilities and faiths climb trees in urban forests and green spaces. Through his doctoral research and other endeavors, Gathright has conducted extensive research into the physiological, psychological and societal benefits of purpose specific tree-climbing and tree assisted therapy programs. A pioneer and leader on the subject, Gathright established TreeHab® – Tree Climbing Therapy® and Tree-Assisted Therapy®. In addition to Tree Climbing and TreeHab activities, Dr. Gathright created the Japan Arborists Association-an ISA affiliated Organization, as well as the Arborist Training Institute of Japan. When not actually climbing trees or training tree-climbing instructors, Gathright can be found lecturing about the topic as a Professor at Chubu University or sharing his expertise at events and conferences around the globe.
---
Acceptance Speech