Event kicks off focus on Religious Freedom and Business
By Claudia Augelli (see original press release at the Religion News Service) 
Brazil celebrated a first place finish this week. No, not in soccer, but in religious freedom. Surprised? If yes, you are in good company. This finding from a recent study by the Pew Research Center also surprised Brazil's Vice President Michel Temer, as religious, political and business leaders just learned in Sao Paulo.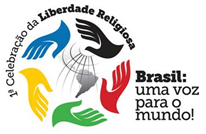 Last week, Latin America's oldest mosque, Mesquita Brasil, in Brazil's financial capital of São Paulo, brought some 700 leaders together for a gala celebration where Muslims, Jews and Christians dined side-by-side to commemorate its status as a leader in religious freedoms. The theme was, "Brazil a voice to the world." The event is the first of a series to bolster the role of business in supporting religious freedom.
Among the 25 most populous countries, Brazil has the lowest government restrictions on religious freedom, lower in fact, in the United States, where a study by the Pew Research Center finds that restrictions have been rising.
Brazil is peacefully undergoing one of the most dramatic religious shifts in the world today. Most of the shift has been from Roman Catholicism to energetic and conservative forms of Pentecostalism and other minority denominations Grim said. In other parts of the world, active and conservative religion is sometimes equated with extremism and political destabilization.
But Sheikh Abdel Hammed Metwally, religious leader of Mesquita Brasil, highlighted the positive example of interfaith understanding and peace in Brazil. "This will be the first of many meetings", he said, and "given the importance of the subject we want to share it with more people and show the world how Brazil stands out in leading position, by tolerating and peacefully accommodate the most diverse creeds. "
Nasser Fares, the lay president of Mesquita Brasil considered it an honor to welcome such an eclectic group in a celebration, highlighting Brazil as an example to other nations.  Ricardo Cerqueira Leite, president of the Association for Religious Freedom and Business (ALRN) also noted that Brazil is ahead of many countries to express support and respect for peaceful religious diversity. "We are essentially a nation with natural vocation to deal with religious differences," he said, "and to conduct ourselves in ways that highlight these values as an example to the world."
Although Brazil has the world's largest Catholic population, religious freedom is most keenly appreciated by religious minorities. The Mormon church, for instance, has benefited from this freedom with Brazil being home to more than a million members. Among the speakers was Elder D. Todd Christofferson, a member of the Quorum of the Twelve Apostles of The Church of Jesus Christ of Latter-day Saints.
Delivering remarks in Portuguese, Christofferson congratulated Brazil for this significant distinction. "I encourage you to hold fast to the freedoms you have forged at home and to lead courageously in promoting religious freedom on the world stage, he said. "The need to protect and preserve religious liberty — in a fair and balanced way that also protects others' fundamental rights — is acute."
Brian Grim, president of the Religious Freedom & Business Foundation, noted that one of the most important factors to the peaceful navigation of the past decades of religious change is the position taken by the majority faith – Catholicism – toward religious freedom. Grim observed that the clear and unequivocal Declaration on Religious Freedom, Dignitatus Humanae, promulgated in 1965 by Pope Paul VI during the Vatican II was important because the "dominant faith was bound by its doctrine to a higher spiritual calling than protecting mere membership rosters. It seems clear that, in this case, this doctrine produced peace not conflict," according to Grim.
Brazilians at the grassroots level plan to promote religious freedom worldwide through a series of initiatives, including hosting awards during the Rio 2016 Olympics that recognize the best advances and innovations by businesses in improving respect for religious freedom, interfaith understanding and peace.
Additional news coverage (in Portuguese):