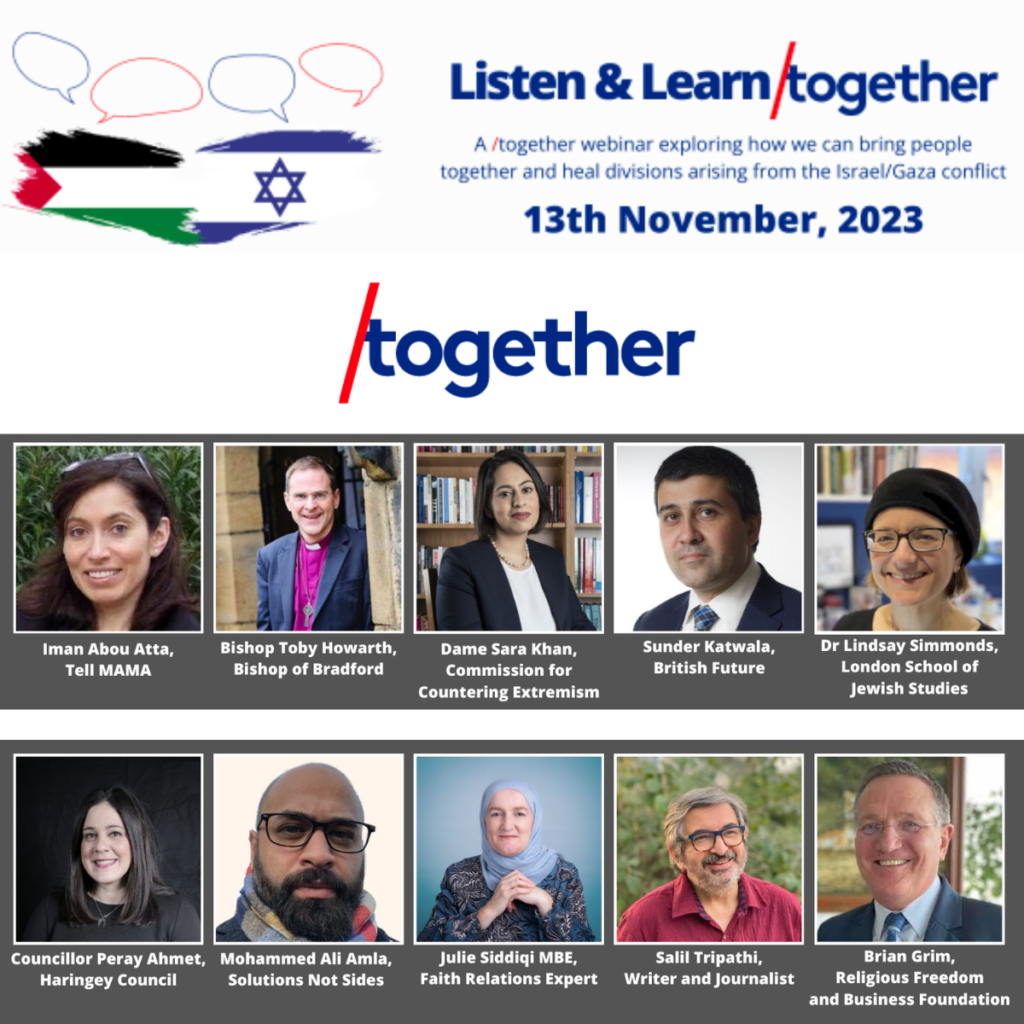 A /together* webinar exploring how we can bring people together and heal divisions arising from the Israel/Gaza conflict
The /together coalition is pleased to share the incredible set of experts and members of the Jewish and Muslim communities sharing on Monday's 'Chatham House rule' webinar.
Join us this Monday 13th November for a Listen and Learn Webinar on Addressing Community Tensions 💬
📅 When: Monday, November 13th at 11am UK time / 6am NYC time
🌐 Register here: https://lnkd.in/eGqBu8De
Our focus will not be on the events in Israel-Palestine but on showcasing best practices and practical advice for addressing community tensions right here in the UK.
Please share this invitation with your networks.
🤝 This will be a private Chatham House Rules event, ensuring open and candid discussions.
* Together is a coalition that everyone is invited to join, from individuals and community groups to the UK's best known businesses and organisations. Our aim is to build kinder, closer and more connected communities by bringing people together and bridging divides.
---
Speakers:
– Sunder Katwala, Director, British Future Councillor
– Peray Ahmet, Leader, Haringey Council
– Ali Amla, Founder, Solutions Not Slides
– Iman Abou Atta, Director, Tell MAMA
– Bishop Toby Howarth, Bishop of Bradford
– Dr Lindsay Simmonds, London School of Jewish Studies
– Julie Siddiqi, Faith Relations Expert
– Salil Tripathi, Senior Adviser Global Issues Institute for Human Rights
– Brian Grim, President, Religious Freedom & Business Foundation
– Dame Sara Khan, Lead Commissioner, Commission for Countering Extremism
Join us for a conversation with community organisations and public and private sectors voices actively working to address tensions in the UK arising from the ongoing Israel-Palestine conflict.
Since the pogrom in Israel on 7th October and the subsequent conflict in Gaza, anti-semitic hate and islamophobia have soared in the UK. Many organisations and communities are having to deal with grief, anger, hurt and division over the conflict.
In line with our mission to create kinder, closer and more connected communities in the UK, this event will be an opportunity for organisations to listen and learn — showcasing best practice and tangible advice from organisations and individuals who are working to address the tensions in British communities, rather than a discussion on current events in the Israel-Palestine.
This webinar presents a unique opportunity to gain a deeper understanding of how your organisation can proactively deal with current tensions and support your employees, volunteers, members, and more.