American Airlines hosts top five companies to discuss newest innovations in making workplaces faith-friendly
Yesterday, American Airlines hosted the other five most faith-friendly Fortune 500 companies to discuss newest innovations in their work.
Intel, PayPal, DELL Technologies and Texas Instruments, as well as global Fortune 500 leader Accenture, each shared how they are using RFBF's REDI Index to benchmark their journey towards increasing workplace religious inclusion. (See more photos.)
In addition to participation from the companies' various faith-based employee business resource group (EBRG) leaders – including from American Airline's five faith-and-belief EBRGs and DEI Specialist Millicent Rone – American Airlines Chief Customer Officer Alison Taylor and Chief Diversity Officer Cedric Rockamore also participated.
WASHINGTON DC FOLLOW-UP: Stained glass master artist Tom Holdman, his wife and team brought his 7-panel masterpiece, The Pillars of Humanity, to display in the atrium of American Airlines global HQ. It was originally displayed at last year's Dare to Overcome in Washington.
Their art reinforced the message that while we are each unique, together we create a more beautiful whole. The glass was blessed at a prayer service in the atrium by Fr. Greg McBrayer, corporate chaplain and chief flight controller at American Airlines.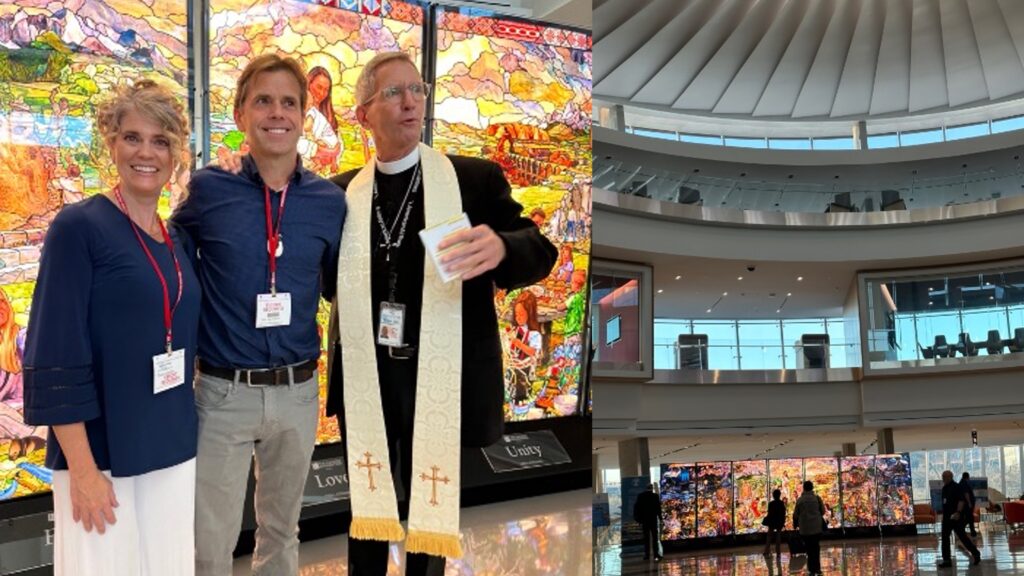 The REDI Index survey is open – please send me an email if your company would like to participate and join this growing, hopeful and energized movement advancing freedom of religion and belief for all at work.
Brian Grim
RFBF President