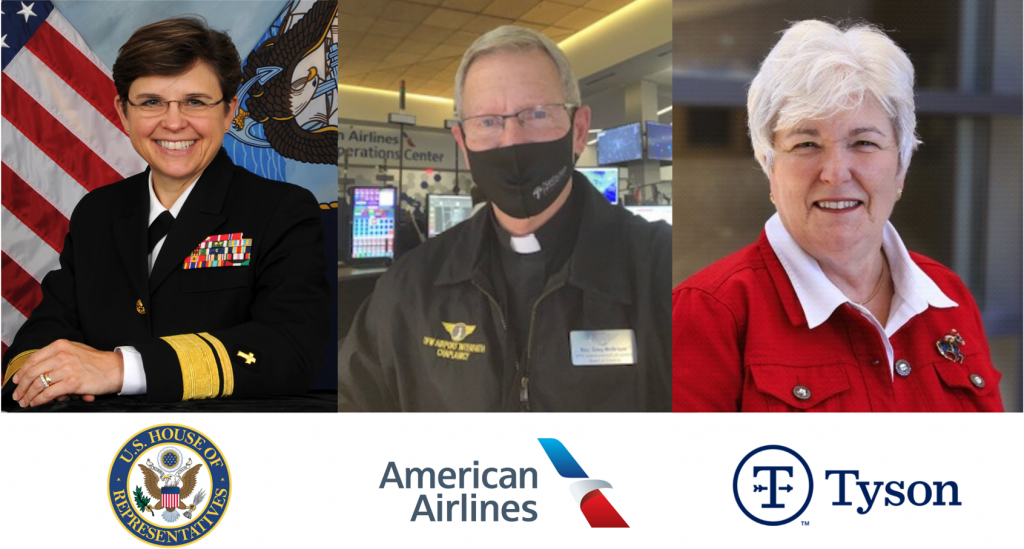 As the US continues to recover from a pandemic and violence in the Capitol itself, there are thousands of workplace chaplains ministering to people amidst the troubles. Join us to hear from three frontline leaders at the 2nd annual National Faith@Work ERG Conference, Feb. 9-11, 2021 (virtual):
– Rear Adm. Margaret Grun Kibben, chaplain to the U.S. House of Representatives
– Fr. Greg McBrayer, chief flight controller and chaplain at American Airlines
– Chaplain Karen Diefendorf, director of chaplain services at Tyson Foods (all pictured above)
---
On Jan. 6, as a violent mob stormed the U.S. Capitol and brought an abrupt halt to the work of lawmakers, Chaplain Kibben was a calm in the midst of deadly chaos.
Kibben previously served as the U.S. Navy and Marine Corps' chief chaplain before being selected by a bi-partisan committee to become the first female chaplain to serve the House. During the siege, she did what she does best: offer comfort to those in crisis.

"There were people of varying abilities, health conditions and emotional states," she said to RNS. "My concern was to keep an eye on who was frightened, who was struggling, so that I could come alongside them — and there were a few under duress."
Meanwhile, across the country, Fr. Greg McBrayer, chief flight controller and chaplain for American Airlines, comforted airline staff and passengers as the pandemic continued to claim lives.
"From an Airline Chaplain's perspective, this has been like 9 months of 911 on steroids," said Fr. Greg.
"As an essential spiritual first responder, it has most compared with end-of-life grief ministry day in and day out. Airline colleagues and co-workers are grieving the loss of jobs, loss of loved ones, co-workers, and certainly the loss of human connection and civility," he said.

At the same time, food production facilities across America can't pause. On the front lines in companies like Tyson Foods, chaplains are on the production floor to meet the needs of staff who have worked through the pandemic to keep the rest of us fed.
"One of the things that strikes me first off, is that our Tyson chaplains have faced the same fears and risks that all of our essential workforce has faced," said Karen Diefendorf, director of chaplain services at Tyson Foods.
"They have demonstrated courage and lived their faith while walking with our Team Members to encourage them, address concerns, be a liaison with plant leaders and helped all of them to be respectful to each other," she said. "Ministry of Presence has never mattered more."

Join us Feb. 9-11 to meet these extraordinarily heroic leaders, brining authenticity and connections through the compassionate care of workplace chaplaincy.