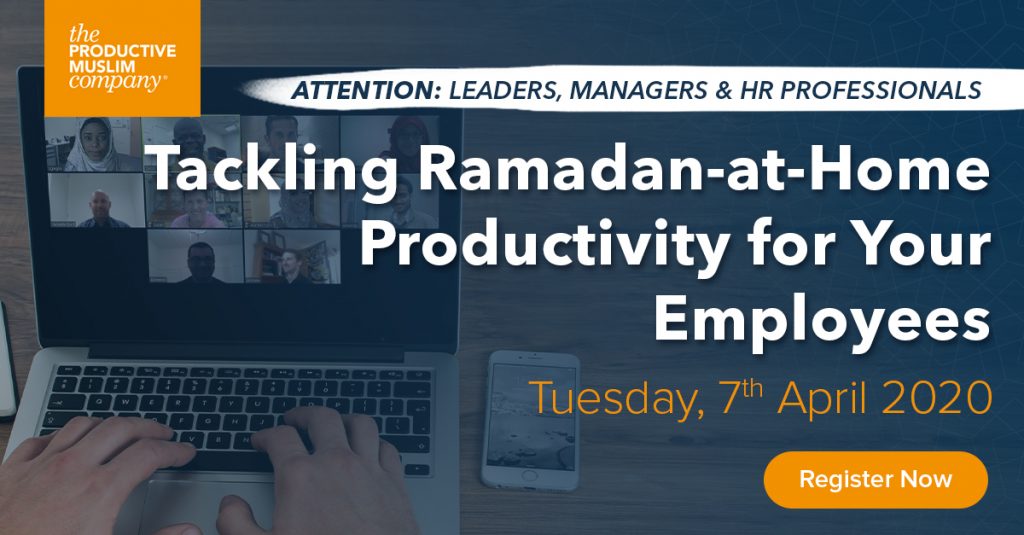 Dear Colleagues,
On Tuesday, April 7, my friend, Mohammed Faris, the founder, and CEO of "The Productive Muslim Company" – a faith-based productivity training and coaching company – will share practical strategies that CEOs, HR Managers, Team Leads, and Faith-based Employee Resource Groups (ERGs), can leverage to connect, engage and support their Muslim professionals during this upcoming tough Ramadan: Tackling Ramadan-At-Home Productivity for Muslim Employees.
Organizations that have a sizable Muslim workforce or operate in Muslim majority countries need to be aware of and prepared for the spiritual and psychological challenges that the upcoming Ramadan will pose on Muslim employees – especially in the current climate.
Due to precautionary measures taken against COVID19, Muslims around the world will experience an unprecedented Ramadan without the usual Ramadan mosque-related rituals, iftar gatherings, or community Eid Celebrations.
Topics that will be covered include:
(1) The Spiritual and Psychological challenges of a Ramadan at Home for Muslim Professionals
(2) The value of Spirituality and Faith to reduce employee anxiety especially during these unprecedented times.
(3) Practical tips to Connect, Engage, and Support Muslim Employees in the challenging Ramadan ahead.
(4) Available resources from The Productive Muslim Company to support Muslim Employees during this period.
If you have Muslim employees or coworkers, I believe that you'll find this seminar very useful. Register here.
Brian Grim, RFBF President