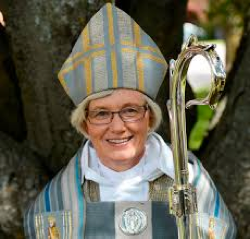 Antje Jackelén, Archbishop of Sweden, together with Prof. Linda Woodhead (UK) and Brian Grim (US) – and input from the Global Agenda Council on the Role of Religion – looks at how faith interacts with each of the 10 key global challenges identified by the World Economic Forum ranging from climate change to gender parity.
Also, together with Linda Woodhead, Archbishop Jackelén argues for four reasons for the inclusion of religious traditions in addressing climate change. First, historic religious traditions have a tried and tested cultural integrity, spiritual depth and moral force which can greatly enhance secular approaches. Second, climate change is fundamentally a question of global justice. Third, religious traditions play a role in leadership. Fourth, the dimensions of the challenge can invoke anxiety as well as paralysis.
As Archbishop of Uppsala, Antje Jackelén is the first female head of the Church of Sweden.
In 2015 she made news by becoming the first woman archbishop to be welcomed to the Vatican for an official papal audience. In her address to Pope Francis she spoke of progress made in the dialogue between Catholics and Lutherans, including the joint document 'From Conflict to Communion' in preparation for a shared commemoration of the 500th anniversary of the start of the Reformation.