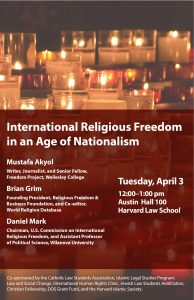 From Harvard, to China's Fudan, Korea's Wonkwang, and St. Paul Minnesota's University of St. Thomas — scholars are looking at religion's and religious freedom's socio-economic impacts and contributions.
Harvard Law School
On April 3, Brian Grim will join journalist Mustafa Akyol and USCIRF Chairman Daniel Mark at Harvard University's Law School for a discussion on "International Religious Freedom in an Age of Nationalism." Grim will focus on the power of business to foster interfaith understanding and peace.
Mustafa Akyol is a writer, journalist, and Senior Fellow atWellesley College's Freedom Project. Daniel Mark is Chairman, U.S. Commission on International Religious Freedom, and Assistant Professor of Political Science, Villanova University.
The event is co-sponsored by the Catholic Law Students Association, Islamic Legal Studies Program: Law and Social Change, International Human Rights Clinic, Jewish Law Students Association, Christian Fellowship, DOS Grant Fund, and the Harvard Islamic Society.
At least since the Universal Declaration of Human Rights, freedom of religion has been widely recognized as a universal human right. In recent years, however, the international order of the late twentieth century has come under increasing pressure, and nationalism seems on the rise. How is this development affecting freedom of religion? Leading experts, informed by various faith traditions, academic disciplines, and experiences, will discuss this question–and what must be done to protect international religious freedom in an age of nationalism.
Fudan University, Shanghai 
On March 5, Brian Grim presented an invited lecture on his research on the socio-economic contributions of religion to U.S. society.
Jim Denison, Ph.D., asserts: "It's not often that an academic report changes the conversation about religion in America, but one just did. Georgetown [University's] Brian Grim and Melissa Grim of the Newseum Institute have unveiled their groundbreaking study: "The Socio-economic Contributions of Religion to American Society: An Empirical Analysis."
In fact, the Guardian's story on the research was shared 18,600 (as of April 2017). By contrast, its headline story announcing that Donald Trump wins presidential election was shared 17,127 times.
The short video below summarizes the findings.
Wonkwang Digital University, Korea
Wonkwang Digital University signed a MOU with the Religious Freedom & Business Foundation (RFBF) in the Grand Hilton Seoul on March 9.
The two organizations will cooperate to develop on-line and off-line parallel education programs.
"The development of excellent educational contents will be a chance to be recognized in the global education market by the high level of competence of domestic cyber universities. I hope to contribute to harmony and development," said Wonkwang Digital University President Namgkmen.
Others participating in the signing included Choi Yoon Hee, Admissions Coordinator; Shin Yi Chul, Dean of the Department of Speech and Language Therapy; Kim Jae Hyun, Head of the Admission Promotion Team; RFBF President Brian Grim; and RFBF Northeast Asia Director David Yoo.
University of St. Thomas School of Law
Religious Freedom and the Common Good is the spring symposium of the University of St. Thomas Law Journal.
Date & Time: Friday, March 23, 2018; 9 a.m. to 4:25 p.m.
Challenges to religious freedom have become more prominent and intense in recent years, both in the U.S. and abroad. The conflicts involve both individuals and nonprofit religious organizations, of varying faiths, and laws on matters from nondiscrimination to healthcare to national security. Arguments over these questions typically treat religious freedom as a matter of personal individual autonomy. But religious freedom may have another important dimension: the common good. Indeed, in an era of increasing skepticism toward many religious-freedom claims, the defense of religious freedom may increasingly rely on showing that it preserves space for religious groups to benefit individuals and society.
Social scientists have done considerable research on the asserted contributions of religion and religious organizations for individual believers, for recipients of social services, and for society. But what are these contributions, and how well established are they? Moreover, what relationship do they have to religious freedom in the American tradition? Can religious freedom be justified in part based on its contributions to the common good, and how would such arguments affect the scope of religious freedom?
To address these questions, this conference brings leading social scientists together with a variety of legal scholars, advocates, and policy experts. Among the topics will be the contributions of religious organizations to social services, the founders' views of religion's societal effects, the benefits and risks of religious freedom for African-Americans, the role of religious freedom in countering terrorism, and the causes and consequences of religious-freedom restrictions in various nations.
Conference papers will be published in the University of St. Thomas Law Journal and, in shorter form, in other venues.
AGENDA
8:30-9:00 a.m. Continental Breakfast
9:00-9:15 a.m. Welcome and Introductions, Dean Robert K. Vischer, Professor Thomas Berg, Symposium Editor Dane Knudsen
9:15-9:35 a.m. Byron Johnson, The Need for Research on Effective Compassion
9:35-9:55 a.m. Anthony Picarello, Taking the 'Sum Total' of the Common Good in Religious Freedom Discourse
9:55-10:15 a.m. Melissa Rogers, Lessons Learned From Government Service
10:15-10:40 a.m. Panel Discussion and Q&A
10:40-10:50 a.m. Break
10:50-11:10 a.m. Mark Hall, America's Founders, Religious Liberty, and the Common Good
11:10-11:30 a.m. Jacqueline Rivers, Benefits and Burdens of Religious Freedom: the African American Perspective
11:30-11:55 a.m. Panel Discussion and Q&A
12:00-12:30 p.m. Mass
12:30-1:30 p.m. Lunch: Brian Grim, The Socioeconomic Contribution of Religion to U.S. Society
1:45-2:05 p.m. Stanley Carlson-Thies, The Common Good Needs Robust Institutional Religious Freedom
2:05-2:25 p.m. Sahar Aziz, The Racial Contours of U.S. Religious Freedom: The Case of Muslims
2:25-2:45 p.m. Angela Carmella, The Establishment Clause and the Common Good
2:45-3:10 p.m. Panel Discussion and Q&A
3:10-3:20 p.m. Break
3:20-3:40 p.m. Dane Mataic, Promises, Practices, and Consequences of Religious Freedom: A Global Overview
3:40-4:00 p.m. Thomas Berg, Religious Freedom and the Common Good: A Summary of Arguments and Issues
4:00-4:30 p.m. Panel Discussion and Q&A
This event is cosponsored by the Baylor Institute for Studies of Religion; the University of St. Thomas Murphy Institute for Catholic Thought, Law, and Public Policy; and the Religious Freedom Institute.
University of the Philippines in Manila
June 14. More details to come …