Since the 1970s, the United States prison population has grown by over 700 percent. In fact, one-in-100 adults currently reside behind bars in the U.S. This dramatic growth in the prison population represents an increasing challenge for policy makers and correctional authorities, and translates into a costly liability for U.S. taxpayers. Stated differently, that the unintended consequences of incarceration have created a growing burden on the nation.
For example, research confirms that children of prisoners experience much higher rates of criminal behavior and subsequent incarceration. When a parent is incarcerated, the lives of children can be disrupted in tragic ways. Thus, the impact of one man's incarceration may be felt by families and communities for decades.
In an age of shrinking budgets, many correctional treatment and vocational programs, even if found to be effective, are being curtailed and may be in danger of being eliminated.
Unfortunately, rather than providing offenders with the opportunities and resources necessary to achieve rehabilitation, increasingly incarceration serves as only a temporary reprieve from a troubled existence. Within a short period of time after release, many ex-offenders return to the same disadvantaged communities and find themselves back in trouble and back in prison. National three-year recidivism rates fluctuate around 60 percent, exposing the ugly reality that crime reduction is not easily achieved.
What are we to do?
The Prison Entrepreneurship Program (PEP) is a program that represents a departure from traditional approaches. PEP is privately funded is an innovative, holistic approach to achieving lower recidivism rates. PEP declares itself to be comprised of "servant leaders on a mission to transform inmates and executives by unlocking human potential through entrepreneurial passion, education and mentoring." Although the program does not describe itself as faith-based, PEP leadership and volunteers are faith-motivated individuals and have infused this privately funded organization with Christian principles. PEP begins by working with participants while they are still incarcerated, and continues by providing services to participants after their release. 
At the very core of the Prison Entrepreneurship Program is the recognition that many inmates come to prison with a thirst for entrepreneurship, as well as a practical knowledge of concepts such as competition, relationship-building, risk management, and sales channels.
The centerpiece of PEP's in-prison business educational experience is the Business Plan Competition (BPC). The core curriculum is taught by PEP staff, with business executives and others lecturing periodically on topics within their areas of expertise. The experience is highly interactive and "hands on," with each student required to conceive of a business that he would start upon release and research and write a complete business plan for doing so. Each student receives extensive feedback from volunteer executives and MBA students over the duration of the course.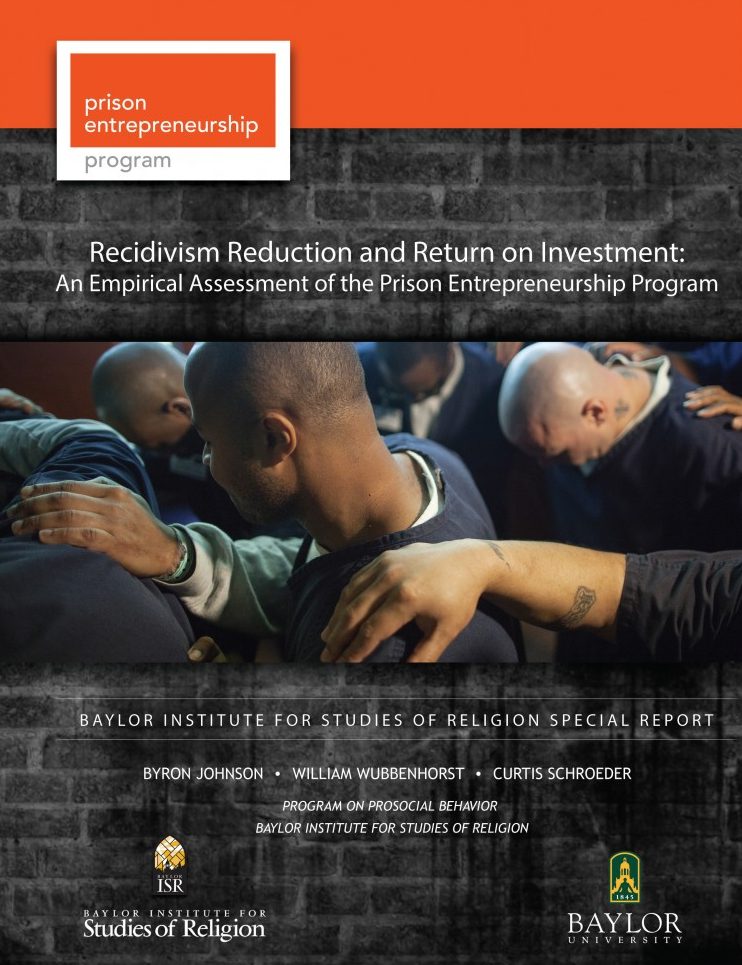 Our study of the Prison Entrepreneurship Program compared 94 PEP graduates to a control group of over 50 inmates who had been selected for PEP, but who did not participate in PEP's programs (i.e. they paroled before class began). The recidivism rate of the control group was virtually identical to the state average in Texas (24%), and was more than 3 times higher than that of PEP's graduates (6.9%).
We also conducted a return on investment (ROI) analysis, and found that PEP's one-year ROI is 74% – that is, for every $1 invested in PEP, the economy sees a $0.74 return in year one. After three years, the initial $1 invested multiplies into an ROI of $2.07. After five years, the economic impact of the initial investment yields approximately $3.40 in economic impact – a 340% ROI.
Having conducted research in prisons over the last 30 years, I can say without hesitation, that PEP is the most innovative and successful program working with prisoners and ex-prisoners, and provides an outstanding model for rethinking how we work with prisoners, as well as how to assist ex-prisoners as they transition back to society.
---
* Byron Johnson is Distinguished Professor of the Social Sciences at Baylor University. He is the founding director of the Baylor Institute for Studies of Religion (ISR) as well as director of the Program on Prosocial Behavior.