The Rimini Meeting is a joyous annual gathering attracting nearly one million people including top political personalities, business leaders, representatives of different religions and cultures, intellectuals and artists, entertainers, athletes and movers and shakers from across the globe.
The theme of Rimini 2016 (Aug. 19-25) was You are a good for me (Tu sei un bene per me). It was a theme that showed itself in many of the themes from the exhibits and encounters during the week.
A highlight of Rimini was a filled-to-capacity session with the president of Italian State TV Monica Maggioni, who dialogued with Religious Freedom & Business Foundation president Brian Grim on the challenges of religious freedom today. As part of their one-hour discussion, Grim aired comments specially prepared by Shaykh Abdallah Bin Bayyah, the chief architect of the Marrakesh Declaration on the rights of religious minorities in predominantly Muslim-majority communities.
Below you can see the full video by Bin Bayyah (in English) as well as a short video of Brian Grim's dialogue with Monica (in Italian) as well as the full event (also in Italian).
Marrakesh Declaration 
Rimini (short video, Italian)
Rimini (full dialogue, Italian)
Grim's time in Rimini started with VIP meeting with Italian President Sergio Mattarella who spoke passionately about the importance of community. His week had a series of individual meetings with top business leaders including from Fiat and Nestlé, who shared about their commitment to tackle social problems as they focus on doing good business. He also met with religious leaders including Archbishop Silvano Tomasi and  Grand Mufti Aziz Hasanović of Croatia.
The beauty of Rimini is that more than 2,000 volunteers from the lay organization Communion and Liberation run everything from cooking and cleanup to production and transportation. They do so to encounter others with the shared simple aim to discover the beauty of reality. For this reason every year it attracts not only Italians and Catholics but also Jews, Buddhists, atheists, Orthodox, and Muslims and others from all over the world.
In times of challenge and tragedy, how uplifting!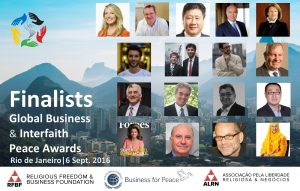 Stay tuned for an update in a few days an update on another very encouraging initiative: Countdown to the inaugural Global Business & Interfaith Peace Awards in Rio, host city of the 2016 Olympics and Paralympics.