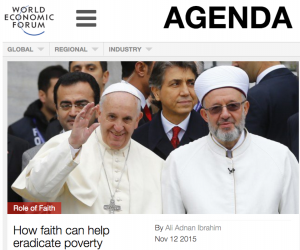 Author: Ali Adnan Ibrahim, Vice-President, Al Baraka Banking Group, Young Global Leader, originally published on the World Economic Forum Blog by Ali Adnan Ibrahim. Published with permission.* 
---
With over 3 billion people living on less than $2.50 a day, fighting economic exclusion and inequality is a daunting task, one that must involve unconventional wisdom and innovative strategies.
Billions of dollars are donated to various faith-based charitable organizations, and are spent with equal zeal and compassion. Since a big part of human suffering relates to basic needs and services, a more efficient and consolidated use of such financial resources could greatly improve the quality of life of those suffering – creating the prospect of a new form of interfaith cooperation.
As religions play an important role in the socio-economic behaviour of believers, the fight against poverty and human suffering could be a powerful unifier for all those of various faiths, and could potentially be a game-changer for global economic development.
Although not quite expressly, Pope Francis has created this space for an interfaith cooperation to fight poverty and human suffering, an objective that is equally dear to other faiths.
Pope Francis and interfaith cooperation
Pope Francis has received considerable praise for his focus on human suffering and acceptance. He has spoken out against the way contemporary capitalism seems unable to promote and preserve human dignity and social justice for all. He has also responded to critics of the Catholic Church by leading Vatican reforms. As he continues to win more support for his courageous stances, he has also made some historic gestures to other faiths, opening up a new universe of possibilities.
Recently, while in the Blue Mosque of Istanbul, Pope Francis made an unprecedented gesture of interfaith cooperation towards Muslims worldwide. With his hands clasped, he turned toward Mecca and observed silence as the Grand Mufti of Istanbul offered an Islamic prayer.
There are striking similarities between the Pope's mission to end human suffering and Islam's central focus on the socio-economic welfare of the human life and preserving human dignity. The possibilities of interfaith cooperation have long existed but today they not only appear more compelling but also more pragmatic.
The Muslim world
Muslims, accounting for roughly one-fifth of the world population, do not have a central religious authority like Catholics and Orthodox Christians. There are different schools within each of the two main groups of Islam, Sunni and Shia. While the Shia Muslims may recognize some form of central religious authority, the concept of central religious authority does not exist within the Sunni schools. As a result, a majority of Muslims are represented internationally (albeit not religiously) only by their respective governments.
Globally, the 57 Muslim countries are also represented by the Organization of Islamic Cooperation. Within the OIC, members of the Gulf Cooperation Council have played proactive roles and are closely engaged as economic partners in the Muslim world. Consequently, the GCC member countries are highly respected for their individual and collectives roles in the Muslim world.
The Islamic Development Bank also plays a big role, spending billions of dollars annually on economic development across Muslim countries and communities. It finances a broad range of projects related to infrastructure, agriculture, education, electricity and energy, transportation, and water and sanitation. It also provides business insurance and trade finance facilities in addition to various technical assistance programmes, and is therefore also highly respected in the Muslim world.
Although these organizations and countries do not (and have never claimed to) represent each Muslim, any actions or initiatives they take undoubtedly carry significant weight within the Muslim world.
Fighting poverty with interfaith cooperation
This common interfaith space is an opportunity for the religious and political leadership to deliver on what lies at the core of their respective beliefs: preserving and advancing human dignity.
The challenges we face today have unique dimensions. It is therefore important that the interfaith cooperation is structured innovatively in a way that allows it to respond as directly and as quickly as possible to the compelling demands of human suffering.
Just as human suffering manifests itself in multiple forms, the interfaith cooperation should also go beyond its conventional form, issues and agendas. For example, a big part of human suffering relates to basic needs and services, much of which could be provided for with a wise and sustainable deployment of financial resources. An interfaith cooperation working towards a broad range of economic development initiatives could be a very timely (albeit unconventional) response.
An interfaith economic development cooperation
Just as Pope Francis took the lead in making room for interfaith cooperation, the Vatican may consider developing a working relationship between its economic development arm and various international development agencies.
By way of a landmark initiative, the Vatican may explore a common ground of economic development cooperation with the Islamic Development Bank, the Arab Fund for Development, the Saudi Fund for Development, the Abu Dhabi Fund for Development, the Kuwait Fund for Development and the Qatar Foundation. Once there are identified targets as a result of the cooperation, other Muslim countries, such as Turkey, Indonesia and Malaysia, may be able to join. This could even open room for private sector players such as Islamic banks and financial institutions to collaborate.
At a later stage, the Vatican may also explore working with a select group of charities sponsored by other faith groups and organization in target regions, pioneering a new era of global interfaith cooperation.
---
*All opinions expressed are those of the author. The World Economic Forum Blog is an independent and neutral platform dedicated to generating debate around the key topics that shape global, regional and industry agendas.
Author: Ali Adnan Ibrahim, Vice-President, Al Baraka Banking Group, Young Global Leader
Image at top: World Economic Forum page showing Pope Francis being welcomed by Mufti of Istanbul, Rahmi Yaran (R) outside Sultan Ahmet mosque, popularly known as the Blue Mosque in Istanbul November 29, 2014. REUTERS/Osman Orsal