Dear Friends and Colleagues,
As new religious freedom legislation in U.S. states is opposed by business, the innocent bystander in the heated debate is religious freedom itself. Religious freedom is a topic that the world and not just the U.S. needs to get right. Why? Research released today shows that the world will be MORE religious in the decades ahead, not less.
It is helpful to review why religious freedom are important to get right. First, a more religious planet can be good for the economy, as I argue in this new piece for the World Economic Forum, giving examples of a surprising number of businesses worldwide motivated and enlivened by faith, ranging fro Adventists to Zoroastrians.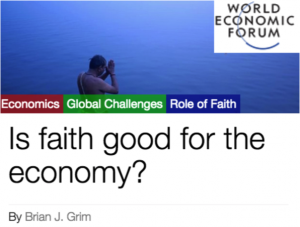 Second, a more religious planet can be a more peaceful plant, to the degree that religious growth is accompanied by freedom of religion or belief, not coercion. In this new piece for the global agenda council of the Tony Blair Faith Foundation, I review the latest research supporting this fundamental benefit of religious freedom – peace.
Third, religious freedom is linked to economic growth and economic strength. Indeed, as the world navigates away from years of poor economic performance, freedom of religion or belief may be an unrecognized asset. For instance, 10 of the 12 pillars of global competitiveness, as measured by the World Economic Forum's Global Competitiveness Index, are stronger where religious freedom is stronger.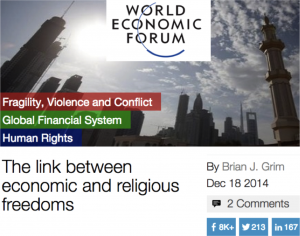 And finally, religious liberty ensures that the positive side of religion has the freedom to do good. One promising new venture along these lines is a new initiative that is countering hate and intolerance with love and understanding, drawing on the very radical religious suggestion in the Good Samaritan story that we should love our neighbors. And in the case of that parable, the Samaritan neighbor is a foreigner with a foreign religion. Indeed, some radical religious ideas are very peaceful.
Also, see my recent Vatican Radio interview on this.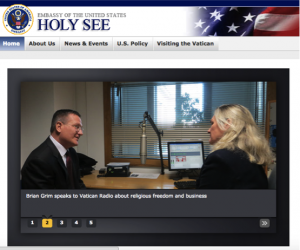 In the weeks and months ahead, I'll be discussing these in venues as diverse as the U.S. Southern Command's second annual "Faith Matters" event, drawing military leaders from throughout Latin America and the Caribbean to explore how religious freedom promotes peace and prosperity. I'll then be in Brazil for several major events in Sao Paulo, Brazil's financial capital. And then in May, I'll be back in London to move the counter-radicalization initiative forward.
Thank you for your support and interest, and please don't hesitate to contact me if I can be of assistance in your work.
Brian Grim
President, RFBF