Over the next two weeks, Religious Freedom & Business Foundation President Brian Grim is discussing the potential and practice of business as a powerful force for supporting interfaith understanding and peace at the World Economic Forum's (
WEF
) Global Agenda Council on the Role of Faith in Dubai and taking the same message to meetings around the G20 in Australia.
Grim at WEF, Dubai
WEF Global Agenda Council
Established in 2008, the Network of Global Agenda Councils is an invitation-only knowledge network – considered the world's largest thinktank – that serves as an international brain trust to the World Economic Forum and the world at large.
The Network gives its Members a unique platform to support the Forum's vision to better understand and catalyze global, regional and industry transformation. The Role of Religion Council is meeting to plan for a global strategy on how business can better navigate religious issues as well as be a positive force for supporting interfaith dialogue and peace.
Grim also participated in a private Global Citizenship dinner with former British Prime Minister Gordon Brown and WEF Founder and Executive Chairman, Klaus Schwab (see pictures). Also attending were former President of Ghana, John Kufuor, former president of the American Bar Association, Laurel Bellows, Catholic Cardinal John Onaiyekan of Nigeria, and Sojourner's President and Founder Jim Wallis.
G20 Economic Forum – Brisbane, Australia
Grim will speak at several events surrounding the
G20
. The Group of Twenty (G20) is the premier forum for its members' international economic cooperation and decision-making. Its membership comprises 19 countries plus the European Union. Each G20 president invites several guest countries each year.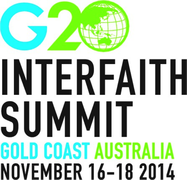 Grim's will be a keynote speaker at "Important Conversations," the G
20 Interfaith Summit
, the Committee for the Economic Development of Australia (
CEDA
),
Notra Dame Law School
, Sydney, and Adelaide University Law School.
Grim is discussing his research that empirically shows that freedom of   religion or belief, when protected by governments and respected by citizens, results not only in less conflict and violence but also in better social and economic outcomes, including better lives for women. He is also discussing his new research on how business respect for and encouragement of interfaith understanding pays dividends in peace and stability as well as provides benefits to the bottom line.