IMMEDIATE RELEASE – BRASILIA: The Religious Freedom & Business Foundation's U.S. and Brazilian officers met with leading business and political leaders in the capital, Brasilia, and in the financial capital, São Paulo.
Meeting at Presidential Palace
In Brasilia on May 14, the delegation led by Foundation President Brian Grim and the Brazilian Association President Ricardo Leite, met in the Presidential Palace Alvorada with the Minister of State and General Secretary of the President of the Republic, Gilberto Carvalho. Mr. Carvalho welcomed the Foundation's recommendation that Brazil take a leading role in promoting religious freedom worldwide.
Deputy Minister of Development, Industry and Foreign Trade, Ricardo Schaefer, expressed similar sentiments. Earlier in the day Grim and Brazilian board member Romanna Remor met with Jose Augusto Coelho Fernandes, Policy and Strategy Director of the Brazilian National Confederation of Industry, to review the latest research on religious freedom's positive contribution to business and industry.
These meetings build on previous meetings with Brazil's Vice President Temer and other leading business, political and religious leaders.
Brazilian Association Launched!
Brazilian Officers and Board
To support the Foundation's ambitious initiatives in Brazil, a local association affiliated with the Foundation was officially inaugurated at a dinner in São Paulo on May 15. Political, business and religious leaders attended the gala (see photo gallery below).
The major project in Brazil will be the Religious Freedom & Business Global Awards to be presented in the host city of each summer and winter Olympics, beginning in Rio de Janeiro in 2016. The Religious Freedom & Business Global Awards recognize best advances and innovations by businesses in improving respect for religious freedom.
---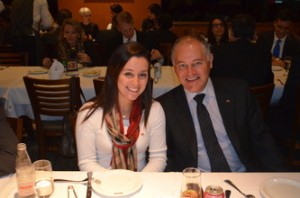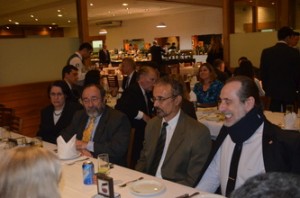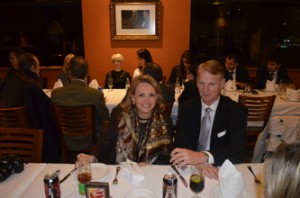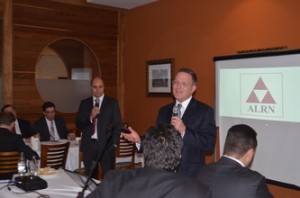 The first major project will be a global webinar with the UN Global Compact's Business for Peace office broadcast from São Paulo on May 21.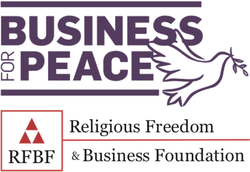 GLOBAL WEBINAR: May 21, 8:00 AM, EDT
On Wednesday, the Foundation and it's Brazilian Association will work with the Business for Peace platform of the United Nations Global Compact to host the global webinar, "Religious Freedom is Good for Business."
JOIN THE DISCUSSION on how religious freedom enables business to be more productive. This webinar will review research and provide information about this relationship while offering concrete ways for the business community to collaborate with government and non-governmental organizations in promoting respect for freedom of religion or belief.
The webinar will be co-hosted by the UN Global Compact's Business for Peace platform together with the Religious Freedom & Business Foundation (RF&BF). It will explain how businesses can effectively incorporate religious freedom in their strategic business plans for the benefit of their stakeholders, their employees, and society and also highlight the positive contributions to peace these actions can have in the workplace, marketplace, and local communities. Finally, the webinar will also introduce a range of global initiatives that businesses and other stakeholders are welcome to join. REGISTER
Speakers include (all times are EDT, New York):
8:00 – 8:05 – Overview of latest data on religious freedom and business (Brian Grim, President, Religious Freedom & Business Foundation)


8:05 – 8:10 – Overview of UN Global Compact's Business for Peace initiatives (Melissa Powell, Head, Business for Peace)

8:10 – 8:15 – Business as a strategy to empower a religious minority – Dalits in Pakistan/Nepal (Katri Leino-Nzau, Director of Development, Finnish Evangelical Lutheran Mission)

8:15 – 8:20 – Brazil: A case study in engaging businesses, government and civil society (Ricardo Leite, Esq., and President of Brazil's Association of Religious Freedom & Business)

8:20 – 8:25 – Brazil: An Open Society that's Open for Business (Carlos Wizard Martins, Founder of the nearly billion dollar Wizard language Schools)

8:25 – 8:30 – How to help corporations respect religious diversity (Joyce S. Dubensky, Esq. CEO TANENBAUM)

8:30 – 8:35 – How can corporations better retain expat employees by standing up for religious freedom? (Greg Clark, Esq., and Vice President, Religious Freedom & Business Foundation)

8:35 – 8:40 – Showcasing Religious Freedom and Business at the World Expo in Milan (Pasquale Annicchino, Ph.D., LL.M., Senior Research Fellow, , Religious Freedom & Business Foundation, and Research Fellow at the Robert Schuman Centre for Advanced Studies, European University Institute)

8:40 – 8:45 – Tibet: A Case Study in Economic and Social Integration (Otto Kölbl Université de Lausanne Faculté des lettres, section d'allemand)

8:45 – 9:00 – Q&A, and Other Opportunities to Engage, including: 2015 Forum in Milan; 2016 Global Awards in Rio; Global Opportunity-Matching Database