Religious freedom's contributions to global competitiveness, economic success and better business were discussed at high level events around the world over the past month, including in Brazil and Austria as well as at the United Nations, interfaith forums, a U.S. Capitol roundtable and the Canadian Embassy.
---
Brazil Vice President Temer & Grim
In early February, planning began for a bold new global awards initiative to recognize businesses with successful initiatives to advance respect for religious freedom and diversity in their companies, societies and the world at large.
Those expressing enthusiastic support include Brazil's Vice President Michel Temer, Senator Magno Malta, Labor Court President Flavio Cooper, and Brazil's National Secretary for Human Rights, Biel Rocha.
Also expressing support were leading clergy, including Rio de Janeiro's Archbishop Orani João Tempesta, as well as Olympic athletes, including the captain of Brazil's national women (football) soccer team, Bruna Benitex, and national basketball all-star Lucas Cipolini (see photos).
---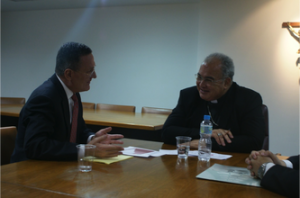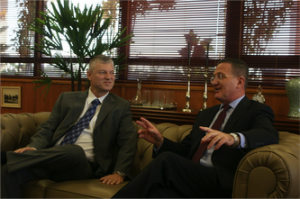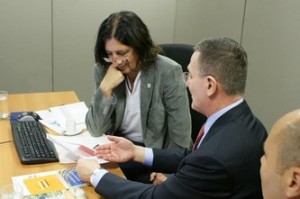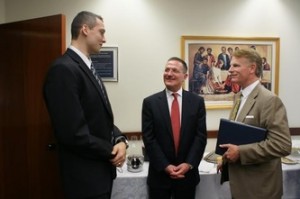 ---
The business case for religious freedom: Q&A with Brian J. Grim
Brian Pellot
Fresh off the trip to Brazil where he launched the new Religious Freedom & Business Foundation, Grim, in an interview with Religion News Service reporter, Brian Pellot, discussed the state of religious restrictions in several key countries and described why businesses should care about religious freedom.
Pellot asked, "What motivated you to leave the Pew Research Center's Forum on Religion & Public Life and establish the Religious Freedom & Business Foundation earlier this month?" READ THE INTERVIEW.
---
---
Brian Grim addresses UN gathering
On Feb. 12, Religious Freedom & Business Foundation president, Grim, spoke at the United Nations in New York, laying out the case for why businesses are a natural partner for protecting religious freedom around the world. During the meeting, world religious leaders called for religious believers of the Earth to unite against the increasing misuse of religion by extremists for hostile and violent purposes.
The conference was co-sponsored with the United Nations Alliance of Civilization (AOC) and the Committee of Religious NGOs.
Others addressing the event included H.E. Mr. Nassir Abdulaziz Al-Nasser, UN High Representative for the Alliance of Civilizations; Dr. William F. Vendley, President, Committee of Religious NGOs & Secretary General, Religions for Peace; H.E. Mr. Adama Dieng, Under Secretary-General/Special Adviser on the Prevention of Genocide, United Nations; Archbishop Francis A. Chullikatt, Permanent Observer, Holy See to the UN; Ms. Roxaneh Bazergah, Mediation Support Unit, Policy & Mediation Division, Department of Political Affairs, UN; and H.E. Mr. Ufuk Gokcen, Ambassador & Permanent Representative, Organization of Islamic Cooperation to the UN.
From the U.N., Grim flew to Vienna, Austria, where he participated as an expert on global databases in a meeting at the King Abdullah bin Abdulaziz International Centre for Interfaith and Intercultural Dialogue (KAICIID). The meeting discussed how to measure and map interfaith dialogue initiatives around the world. Grim, in addition to being president of the Religious Freedom & Business Foundation, is also co-editor of the World Religion Database housed at Boston University.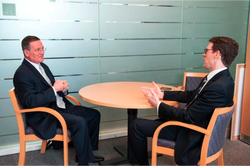 Amb. Bennett with Grim
On February 21, Grim was interviewed by BBC News on the religious freedom situation in Oman. He discussed how the minority Shia population is well-integrated economically in this majority Ibadi Muslim country, making it an example of a country where tensions between Sunni, Shia and Ibadi Muslims are very low. The program will air globally in April.
Before the interview, Grim met with Canada's Ambassador for Religious Freedom, Andrew Bennett, to discuss how religious freedom fosters innovative and competitive markets. Grim will travel to Ottawa on March 25 for follow-up discussions with Export Development Canada as well as give a key-note presentation at the annual meeting of the International Religious Liberty Partnership.
And in a key-note talk on February 27, Grim discussed how businesses can play a role in protecting religious holy sites at an event sponsored by Search for Common Ground and Religions for Peace. In attendance were ambassadors and representatives from various country missions to the United Nations, including Bosnia-Herzegovina, the Organization of Islamic Cooperation, Norway, Finland, and Israel.
Grim noted that Pew Research shows that there has been a seven-fold increase in government attacks on religious properties between 2007 and 2012 and a doubling of social attacks on religious properties during the same time period.  He also discussed various business initiatives to lower tensions particularly in the Holy Lands. For a summary of Grim's comments, see his recent blog.
In February, Grim also gave several briefings on Capitol Hill to Senate and Congressional offices as well as to the International Religious Freedom Roundtable on how religious freedom is good for business.
For more on the Foundation, also see a recent article in Deseret News by Matthew Brown.
---

To stay up to date with Foundation news & research, sign up for the newsletter.
Donate
Thank you for your support!
Archives