We welcome funding partners
Since its founding in 2014, the Religious Freedom & Business Foundation (RFBF) has made huge leaps in helping the business world see the business case for addressing faith and belief in the workplace. The response from the business community has been humbling and exciting.
This progress has come through the following four initiatives:
---
(1) Corporate Training
---
This training program was created to train business leaders about how creating faith-friendly and accommodating workplaces is good for business at all levels. The training model is built on three pillars: Knowledge, Skills, and Action.

The Knowledge pillar allows training participants across an organization to understand the basics of the law regarding religious freedom at work and the business case for creating religiously accommodating workplaces.
The Skills pillar introduces skills and best practices on how to build religious literacy and create religiously accommodating workplaces. As outlined below, we have developed numerous video case studies to help professionals practice these skills and written case studies to help professionals see how other companies have succeeded in this area.
The Action pillar takes the lessons learned from the Knowledge and Skills pillars and applies them to the specific context of the given business. Participants are able to build strategies on how they will implement lessons learned using the resources provided in the training.
This training model, combined with the teaching resources we've developed below, has proven to be a very successful model for corporate training.
Resource Example 1 – Video Case Study: We have developed an engaging series of video teaching prompts, such as the one below. Each video case study depicts real-life scenarios in a workplace. Each scenario comes with individual and group work to assist participants in analyzing the situation and applying appropriate religious diversity, equity, and inclusion accommodation principles.
---
Resource Example 2 – Written Case Study: Each written case study tells a unique story of how a given company has brought faith and belief accommodation into the workplace. As every company is different in their structure, employee demographic, and mission, each case study highlights unique challenges and lessons learned. For instance, the Texas Instruments Case Study highlights how the company overcame concerns among employees that creating a faith-based employee resource group would negatively impact LGBTQ workers at the company.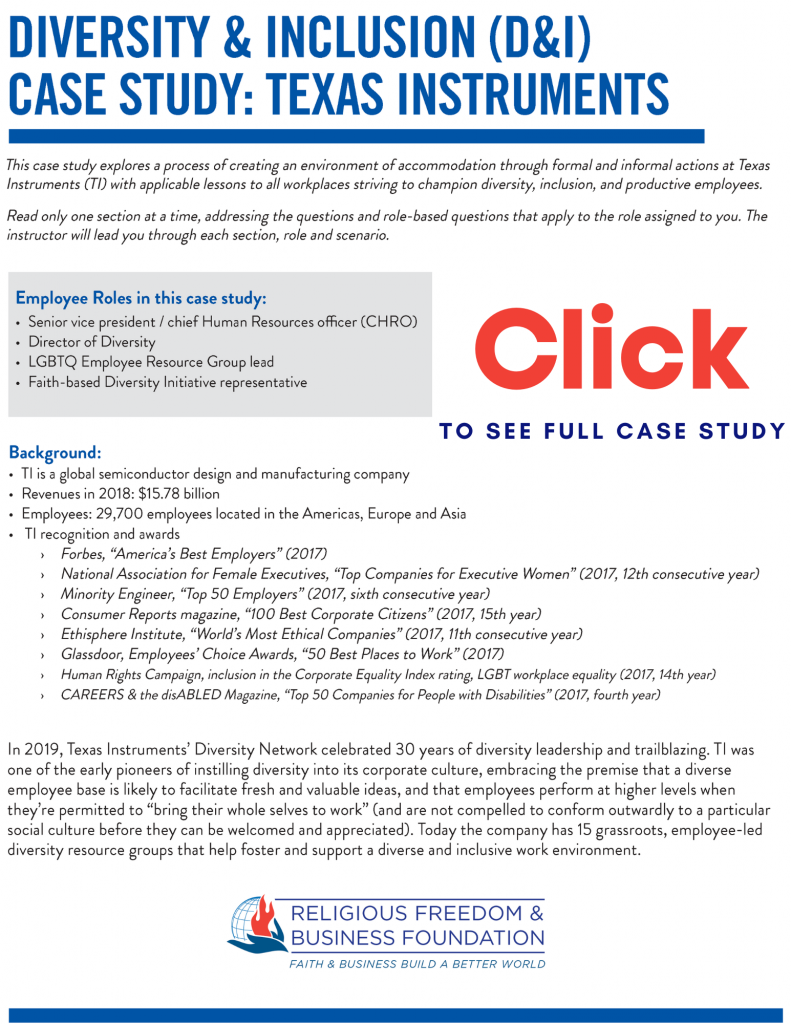 ---
---
Resource Example 3 – Tools to Help Launch Faith-Based Employee Resource Groups: Given RFBF's expertise in addressing faith and belief in the workplace, many companies have sought our guidance in helping them launch new faith-based initiatives in the workplace, especially the development or growth of employee resources groups (ERG). In fact, Dell Technologies attributes the launch of their ERG, Interfaith, to the work of RFBF.
The following video discussion reflects the guiding principles we developed to help companies on this topic.
---
2) REDI Index
Annual Faith@Work Conference
American Airlines and Tyson Foods sponsored the first annual national Faith@Work ERG conference in 2020. Join us in 2021 at the Busch School of Business in Washington DC for the second conference.
Keynote
Ellen Barker, Senior Vice President and CIO at Texas Instruments (TI), makes the case for how a faith-friendly workplace benefits business.
---
Comments from Corporate Sponsors
American Airlines
Corporate sponsor American Airlines shared their reactions on receiving the REDI Awards, and the pivotal role their faith-oriented Employee Business Resource Groups (EBRGs) play in the company's ethos of Caring for People on Life's Journey.
Tyson Foods
Corporate sponsor Tyson Foods, also top scorer on the Corporate Religious Equity, Diversity & Inclusion (REDI) Index, hires full-time chaplains to minister to the needs of employees of all faiths and beliefs. And, as we heard, that yields a real Return on Investment.
Insights from 2019 Conference at TI
With the Religious Freedom & Business Foundation, TI co-hosted the 2019 Faith@Work conference at their corporate HQ in Dallas.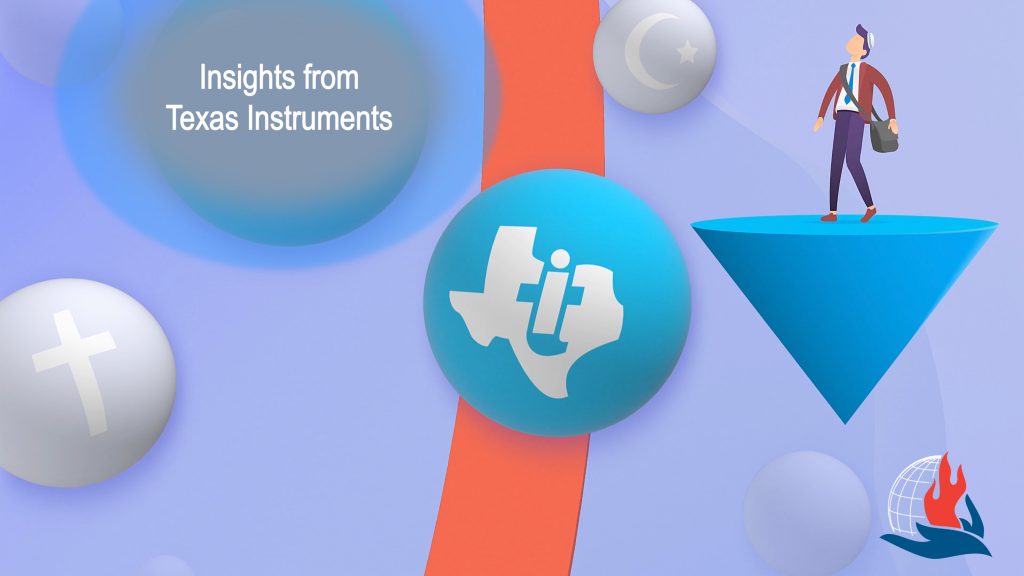 To keep updated on the latest news and information on religious freedom and business in the US and world, please sign up for our free newsletter.
---